Baroness Studio Diary - 5/21/09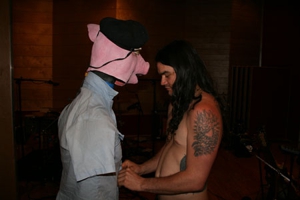 Texas is big. Everything in it is bigger. They say it. You've heard it a thousand times. Its one of those cliché sayings that makes you cringe every time you hear it. But, dag nabbit, its true. About three months ago, when we decided that we would be recording our new album with John Congleton, we were under the impression that we would be tracking at a studio deep in the Minnesota woods. The view from the control room looked out over a beautiful spring-fed trout stream and a landscape of mature trees. The forest floor was adorned with footpaths set of by various wild flowers and plant life while many woodland creatures scurried about with happy faces.
Plano, Texas is not quite so pristine. We have been here for three days and I have been hard pressed to find shade that isn't produced by the backside of a concrete wall. There is definitely no trout stream. And the only critters I have seen have been dead armadillos. It is funny seeing a dead armadillo. Unless they have been completely crushed by the vehicle that robbed them of their life, the dead ones are always upside down with their stubby little legs pointing straight up into the air. I don't mean to poke fun at these little guys, but they are one animal that seems to treat death in a comical sort of way. I appreciate that, whether they intend comedy or not.
We arrived in Plano a day before we were slated to start recording, so we checked into a cheap hotel which lived up to almost all of the cheap-hotel stereotypes, with the exception of bloody sheets and cum stains. I can't say I was disappointed about this. After watching a few minutes of Anthony Bourdain, we ventured out to find some dinner. Our first choice was shot down due to a two-hour wait, which surprised us all, considering it was a franchise in a tacky shopping center. We ended up settling on a restaurant where the atmosphere was equally formulaic and artificial, however, the cuisine was enjoyable, and an hour later we left satiated and happy and ventured on to see a movie.
As we leave the giant movie cinema I realize that Tom Hanks did a lot more for me in Joe Vs. The Volcano then this, his most recent portrayal of an Indiana Jones-type wannabe myth-busting pop novelist. Sleep is needed after the 18-hour journey from Savannah. I find my bed comforting and slip off into that wonderful land of dreams.
We arrive at The Track Studio the next day around 10. No one is there and we sit impatiently on the concrete and place bets on what John Congleton will look like. What car he will be driving. Emo cut or hesher hair. Fat or slim. Vespa or fix gear. Vegan or meat eater. Fortunately all of our preconceived notions of this man we are about to spend the next two and a half weeks with are crushed. Dude is chill as fuck. Nuf said.
The first three hours are spent setting up drums and amps and getting all of our crap out of boxes and familiarizing ourselves with the studio. It's quite nice, I may add. Hardwood floors and tall ceilings. Red and blue acoustic tilings adorn the walls in makeshift patterns. The control room is large and comfortable with a leather couch and matching chairs. The lounge has a wonderful record collection and not one, but two, broken record players. I did find a strange little red pistol. For the first two days I couldn't figure out what its purpose was, but then yesterday I decided to squeeze the long metal trigger and was greeted with a tiny jolt of electricity on the tip of my finger. My conclusion is that it is an anti-static gun. I have never seen one before, but that appears to be the only logical explanation for such a strange little red gun.
Day two finds us all excited and ready to go. We have managed to make the studio a bit like home in the short amount of time we have been here. Ziggy Pig has joined us today. We gave her a mannequin body, which resembled an underdeveloped female torso and fitted her smooth pink head with a boat captain hat of the likes you might see on Lemmy in the early years. Halfway through the day I began to notice that Mr. Congleton was getting nervous around her. This man, so outgoing and friendly, would not even look her in the eyes and ignored her completely every time he walked by. We decided that her bare chest should be covered as to not distract our producer. Being the gentleman that I am, I offered her my blue button down shirt which I acquired a few years ago on the set of a short film that I was cast in where I portrayed a butcher, hacking up ambiguous parts for a swine-packing plant located somewhere in the back woods of South Georgia. It seemed fitting, and she didn't mind the irony.
Today was day three in the studio. We have successfully tracked four songs and as a whole we feel confident and excited with the progress we have made. Our relationship with Mr. Congleton is growing more and more positive daily. He seems much more relaxed now that Ziggy Pig is no longer in the nude, though I am convinced he is secretly in love with her. His easygoing attitude and ability to make everyone laugh with less than four words is quite refreshing and highly welcomed. I look forward to the coming days and all that shall unfold.
Others Tagged With