Lou Barlow and Dinosaur Jr. Tour Diary - Boulder, CO - 10/29/09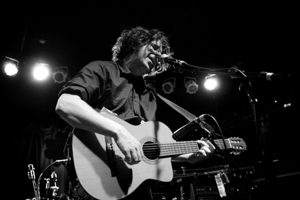 Wake to a bus disturbance. It seems a wheel nearly shimmed off while we were in route. We are on the side of the highway (I-76), it is sleeting and the smokers are out smoking in the breakdown lane. Murph is wandering on the frontage road attached to his cell phone (I worry that he'll be hit by a speeding pickup truck; he's occasionally oblivious to traffic.) We congregate in the front lounge and have a pretty good time considering we are stranded. Dead Man (Jim Jarmusch film with Johnny Depp) is on the DVD player and we appreciate Neil Young's soundtrack. His guitar sounds like the clouds look out here in the West: ominous, beautiful.
The clouds are treating Boulder to a few feet of snow this day. We are rescued by our ex-guitar tech Ryan who drives a van 70 miles from his home to pick us up. In Boulder, we check into the hotel where I will spending two full nights, alone. (Oh joy…recuperation…time.) I call my childhood friend Mark and meet his new girlfriend. He says it's better to drive drunk when it's snowing and we slosh our way through Boulder looking for a bar that has a pool table. Miraculously, I'm in bed by 11 p.m.
Others Tagged With