Lou Barlow and Dinosaur Jr. Tour Diary - Boulder/Fort Collins/Halloween - 10/29-31/09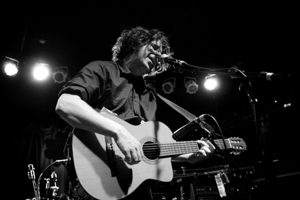 Boulder 10/29
Dinosaur Jr's very complicated history somehow all comes together here, in Boulder, Colorado. It's interesting that it is virtually halfway between Massachusetts and my new home in California. Blee Music, Dino's management, has masterminded each step of our reunion career: when to record a new record, when to tour. It has brokered nearly every band discussion. As the designated parent, it also absorbs all the ambivalence and occasional yelling.
So our appearance at the Boulder Theater is fraught with expectations and concern. Boulder is where the smoking ban began—the ban that has now spread to Italy, of all places. There's a political correctness mixed with shameless hedonism that seems unique to this area. At the merch booth, Tom and Raul are sexually assaulted by the women of boulder.
the missingmen and I play well. My friend from childhood, Mark, compares it to the shoegazer fare we loved in the early '90s (Slowdive, Ride), and says it is the best show he's ever seen me play (he's been to hundreds). Success!
Murph seems to have buttered his sticks before playing, explaining the relative sloppiness of Dino's set this evening.
The show is under-attended.
Fort Collins 10/30
There is a great thrift store across the street from the Aggie Theater. I find some lonsleeve pullovers that will be integral to not freezing my tits off when we cross Canada. (We're touring Canada in November with a bus and trailer—brilliant!)
In a possible sign of things to come, Interstate 80 is closed all the way to Salt Lake City, our next destination. I have a discussion with our very nervous bus driver. We may be forced into a risky alternate route, Interstate 75, the steep way over the continental divide. He mentions his two children and vows never to tour in winter again.
There is some confusion at soundcheck because the ceiling above the stage is collapsing, damage from the previous days blizzard. There is concern that the mighty sound of Dino will loose it further. There is even talk of canceling the show. But we set up and check, no such drama.
The day is pleasant, crepes served by a French waitress in the afternoon, another ribeye before the show, another good set with the missingmen. There are even more young kids for Dino than usual, up front, ready for the onslaught in their black band tees.
After the show, Bill Stevenson, the drummer and mastermind of the Descendents (second only to the Buzzcocks as the greatest pop-punk band of all time), holds court in the dressing room. Having unwititngly insulted him once from the stage at a Belgian rock festival in 1994, I opt to slink away and call home. Later, I hear tales of a conversation that encompassed hardcore porn, group sex and the taste of semen.
Halloween 10/31
The bus driver refuses to drive to Salt Lake City. I will be flying home a day early for a previously-scheduled short visit home. When he apologizes, I want to kiss him on the lips. I cannot believe how happy I am.
My opening slot in Salt Lake was axed by the promoter anyway. I was already holding a grudge. Screw the treacherous drive through the Rockies; we'll have enough of that trying to get to Calgary next week. Canceling a show has never felt so right.
So, to the denver airport and a 7 a.m. flight to LA. I surprise the girls and spend a blissful two full days at home. My wife suggests sending the bus driver a bouquet of roses. Or a golden pumpkin.
Others Tagged With