Lou Barlow and Dinosaur Jr. Tour Diary - Omaha, NE - 10/27/09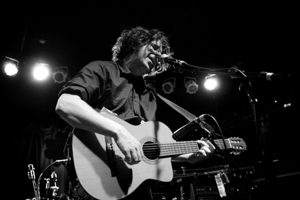 The building complex for the club (The Slowdown) contains an Urban Outfitters, an American Apparel and the offices of Saddle Creek records, among other left of the dial businesses. A testament to how well Bright Eyes and his compatriots have done? I don't know and don't ask anyone about it.
The club is state of the art modern as if designed by musicians who've spent time touring Europe and the States and brought aspects of the best clubs home. A window on to the stage from the dressing room, a big washroom a with nice shower and huge bottles of high-end shampoo and conditioner (bonus!). Washer and dryer (squeals of delight from crew and bands)! The only drawback: the high ceilings and hard surfaces in the hall make a band like Dinosaur Jr sound like an atomic bomb going off, continuously.
We are joined this eve by a third band that will be accompanying us 'til Seattle, Violent Soho, who are friendly Australians who play Thurston Moore-approved neo-grunge. Heavy and also very loud.
When we were here two years ago, it was more desolate nearby. Now, there is a stadium under construction and downtown Omaha has nearly expanded to the box office of the independent movie theater next to the club. The buildings downtown don't seem as far away.
There's still not much food in walking distance, so Murph, Tom and I settle for a sports bar in a Holiday Inn populated with families that, I would guess, are in the big city for a sports event.
Watching Tom Watson talk to a waitress is like watching a tightrope walker. He engages strangers in surreal banter that is charming and provocative. The man is gifted. Being a borderline sociopath myself, I say nothing and hold my breath, wondering where the conversation will lead and will it ever end. Tom speaks in quadruple entendres, flirts with everyone (little girls, old men) and seems to take genuine delight from all of it.
On other tours, Murph and I usually have dinner together, often by candle light tucked in a cozy corner of a fancy restaurant. We eat well and discuss the day. This tour, I've been busy with a whole other round of sound-checking and equipment wrangling, so he and I haven't connected as much. But having Tom around seems to smooth it all over.
The missingmen show goes well on my side. I feel a return of the confidence I had in Atlanta. The audience seems unmoved and that carries over to the Dinosaur show. Usually, if not every-single-time, when we play "Been There All the Time" (from Beyond, the first post-reunion record) there is a call and response with the audience on the last chorus, something that's happened spontaneously and seems to follow us everywhere. Tonight there are crickets during the final chorus. A sense of detachment permeates the night. Maybe everyone is stunned into submission by the extreme volume, but the ticket sales where low again, I think. We don't seem to be hitting in the heartland.
Others Tagged With