Lou Barlow and Dinosaur Jr. Tour Diary - Tempe/Solana Beach - 11/3-4/09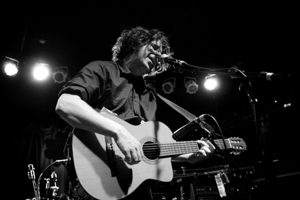 Tempe, AZ 11/3
8 am flight to Phoenix from the Burbank, Bob Hope Airport, the perfect airport: small, boarding planes off the tarmac up a staircase always feels romantic, somehow. Though the feelings I have leaving home again are far from wistful. Phoenix is in the Desert; it makes Los Angeles look like a rain forest.
The desert feels like a dead ocean floor to me. The light makes my eyes cross. I ride with a ridiculously surly cabbie. I hand him a piece of paper with the address on it, he waves it away dismissively. He drives 80 miles an hour with his foot on the brake pedal and screeches to a halt in central Tempe. I present my credit card and he gives me a look of complete disgust.
When my feet hit the sidewalk, I realize the Marquee Theater is nowhere nearby. I pop into Starbucks, check Google Maps and confirm: I am over a mile from my destination.
i consider spending the day angry and whining to our tour manager, Rob. Instead, I call a cab that never comes and end up walking to the club with my bag of laundry and backpack. The club is just over the river (an actual body of water!) and the trek is as pleasant as it could be. The day is saved, again.
Murph, J and I all went to our respective homes for the three days off. The crew and missingmen stayed in the bus. The driver who refused to go to Salt Lake has been fired. We have a new driver now and, praise be, he seems competent, calm and everyone is liking him. Phew. Bus drivers can be unpredictable. I could tell stories of crack addict, gun toting good old boys who drop "the n bomb" and drive like maniacs.
It's Tim's (guitar tech) birthday, so we go to a steakhouse close by, Monte's. Tom summons the staff to sing "Happy Birthday," Tim squirms. We walk back over the river and the railroad bridge parallel is psychedelically lit from underneath, the lights chasing the train as it passes. The night sky is clear and we watch the trail of jets taking off from the airport.
The theater is huge. Mike Watt had a great word for low attendance: "caving," as in "Dino is caving," a term evocative of large, empty halls, no bodies to soak up the sound. The theater is mostly empty when myself and the missingmen play, but it fills up nicely when Dino hits the stage. If ticket sales were low, the enthusiasm of the crowd more than makes up for it. As agonizing as it is to leave my (very pregnant) wife for this tour, the music and brotherhood keeps me present and content.
Solana Beach, CA 11/4
Solana Beach is just north of San Diego. Our day begins in San Diego at a radio station. Dinosaur Jr is meant to do an acoustic session. So Tim and Noel have schlepped one of my bass amps and one of J's to the tiny broadcast booth.
We are greeted by the DJ, who immediately and forcefully entices us with offers of free strings and guitar pedals. As he is mentioning all of the amazing free things he gets, I realize that I will be getting none of it. Do I ask for his number and then pester him over the next few weeks for his friend at insert-company-name's number? Do I have "my people" contact him? I have no idea.
As confusing as that is, the performance and interview go well. The DJ is a pro. The best part, however, is J's resistance:
DJ: Would you like to do another song?
J: Of course not.
Something about San Diego and its skate culture seems driven by a devotion to promotion. I find it bewildering. As the skate guys get older their long shorts, XL logo tees and baseball caps make them look like gigantic 7-year-olds.
As plugged in to that scene as Dino Jr are, I am alienated by it. Every time I sign a skateboard, I feel like a fraud.
Our friend O, photographer/musician, greets us at the radio station. I don't know how he does it, but he is there wherever and whenever we roll into town. There may be two or three identical O's in San Diego He is the most mysterious, down-to-earth person I have ever met. He seems to have superpowers, a knowledge of all amplifiers, recording gear and food. It's always great to see him.
Off to the club, a fancy place, usually host to international blues acts and non-punk
fare. It's the sister club to the Belly Up in Aspen. Aspen: the rich person's playground. There is definitely an aspect of that here: seating on the sides, lots of wood. I guess we've moved up from the Casbah (the cozy punk-rock bar that has hosted 95% of my visits to S.D.). I'm ambivalent about that, but equally happy to have a new neighborhood to explore. There's an antique mall across the street. I buy a vintage Preskool Little People school bus for $26. I want my kids to have the Little People experience. I buy Noel (our long suffering sound engineer) a Bruce Springsteen 7" (the Boss has been a theme on this tour). He's been doing sound for Dino AND my band for a month.
Everyone's got it easy compared to Noel: under fire every night, 36 speakers shooting knives, the audience screaming at him, "More vocals!: It's a damn shame what we put that man through. He seems pleased when I hand him the single. There's a version of "Santa Claus is Coming to Town'" on the b-side.
The show goes smoothly. I'm happy to say that I am not nervous about playing L.A. tomorrow. The oft-dreaded hometown gig. Plus, Tom's girlfriend is driving us home tonight. I'll be back in my house by 3 a.m.!
Others Tagged With