The Lonely Forest Tour Diary - Chapter Two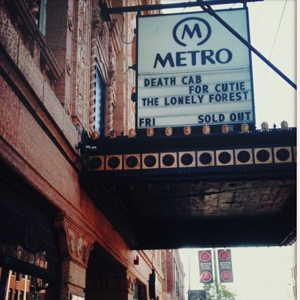 For me touring with Death Cab For Cutie is similar to going down my first big waterslide. At first, I was kind of terrified: scared of the crowds, the strict regulations backstage and the pressure to be professional. However, I quickly realized I have nothing to worry
about. In fact, I'm really enjoying being a long for the ride.
My stomach still drops at the sight of the thousand-plus dedicated DCFC fans I face every night. It's a strange thing to think of our band, playing our small catalogue of songs, trying to win over people of all ages who probably just want us to shut up so their favorite band can take the stage.
I have, however, been pleasantly surprised by the crowds' response. As I walk through the crowd after our set, I've noticed more and more people stopping me to talk and compliment our band. I wonder if they legitimately enjoyed us or if I'm just privileged to the celebrity proximity effect. Either way, the attention is new and unusual.
One of the biggest things I've noticed about the guys in Death Cab is that they actually take the time to get to know us. Trust me, we have played with dozens of bands that barely even make eye contact with us…. And these are bands you've never heard of. If there is one thing I'm personally taking away from this tour, it is that no matter what
level you get to in your career, it always pays to be down-to-earth. Being an asshole used to be the cool thing in rock and roll, but that era is gone. If you burn bridges as a band, then you're doomed to the depths of obscurity.
The first day of tour I had a good conversation with Jason (DCFC's drummer). He gave me some sagely advice about touring and working hard as a band. "It takes time and you have to work your ass off", he said casually. It was very encouraging to me. Everywhere I look I see bands going from zero to 60. We are not that band. We are a tortoise surrounded by hares… which is exactly what Death Cab is. They took their time and made good business decisions. I'm going to do my best to be patient and work diligently.
Okay. Enough said.
I'm going next door to eat something delicious.
Others Tagged With