Marc Broussard Tour Diary - Chapter Two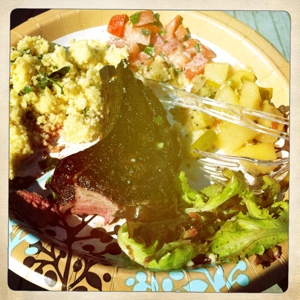 Week 1
We're currently on our way up the California coast to San Francisco. It's been a busy couple of days with the album release and our recent video shoot. The day after our first show at the El Rey Theatre in Los Angeles, we headed down to Redondo Beach to a shoot video for the new single 'Cruel,' as well as 'Only Everything'. The video was shot at Brixton South Bay, which is an old rock club. It's got this really vintage, speak-easy kind of vibe and was the perfect place to shoot a music video. I was really lucky to be able to work with the Boukadakis brothers Joey and Paul, who directed and shot the video. I've always been a fan of their work so it was really special that I was able to work with them. Do yourself a favor and check out "Dinner With Raphael" on Funnyordie.com. HILLARIOUS!! It was a long day with a lot of takes, but I think these guys nailed it! They also showed me other footage that they have taken for the video and I can't wait for y'all to see it!
After a long day of filming the boys were pretty worn out, so we called it an early night and got some rest for our upcoming shows. The next day we headed down the coast to Solana Beach, just outside of San Diego, then on to San Juan Capistrano and Visalia. It's really been nice traveling up the California coast. I've been trying to soak up every bit of this beautiful California weather. Although I'm not quite ready to leave, I'm definitely excited to get up to Portland and Seattle. This part of the country is so beautiful! Talk to y'all soon.
Week 2
After the show in San Francisco we had a much-needed day off. After the video shoot and four consecutive shows it was nice to get a break. On our day off we went to Inverness, CA and spent the day at Tomales Bay, which is a really remote bay just north of San Francisco. My tour manager and I went to an organic grocery store in San Francisco and bought tons of food for us to grill. There is nothing like having a day off and cooking a healthy meal. My drummer Chad and I did most of the cooking. I tried a new recipe that I found online and I must say the meal looked like something right out of Bon Appétit Magazine. We made grilled lamb chops, a tomato salad, caramelized pears, cous cous and a spinach salad. It was delicious and made our day off perfect. (See main photo above).
The next day we were off to Portland where we played the Aladdin Theater. The theater was packed and the crowd was unbelievable! They were so attentive and energized. The show was definitely the best of the tour so far. I was pretty fired up. I even did a flip on stage during the encore!
This tour has been a blast thus far. It has truly been amazing having the ladies of Chic Gamine sing with me every night. I've never been able to have background vocalists on tour, so having them sing with me has been a real blessing. We are constantly challenging each other and thinking of ways to make the show better each and every night. It has been absolutely amazing to have their support and input along the way. Tonight we are playing in Seattle at the Showbox, which is another great venue. The fans in Seattle are usually pretty crazy, so I'm excited about tonight! Stay tuned and we'll check in with y'all soon!
Others Tagged With