Marc Broussard Tour Diary - Chapter Three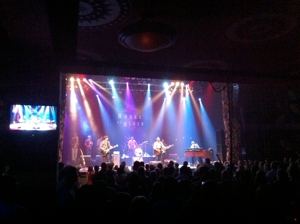 Week 3
Hey everybody, we're checking in on our long bus drive to Phoenix from Las Vegas. Last night we played at the Hard Rock Café on the strip in Vegas…what a crazy city. The band had a lot family and friends in town, so it was nice to see familiar faces in the crowd.
After the show, since we were in Vegas we of course had to hit up the casinos. We went over the Bellagio with some friends a played some three card poker. Unfortunately, the Vegas casinos weren't as generous as the ones we visited Reno. But it was still a great night and was really special to get to hang out with family and old friends.
Before the show in Vegas I also had the privilege of working out with the lead trainer from Cirque de Sole at their training facilities. One of my friends put me in touch with the trainer and we set up some time for me to come learn some basic gymnastic skills that they use in their show. The session was badass. The trainer first started with the most basic gymnastic moves like somersaults and back rolls just to see where I stood athletically. He actually said he was surprised at how well I did for not having any gymnastics training. After the easy stuff, we moved on to a little more challenging moves like hand springs and front flips. I even worked on perfecting a front flip to do on stage… I think it would definitely be a nice addition the encore every night! But overall it was an amazing day and I was so lucky to have the opportunity.
Today we are heading to Phoenix, where we are going to spend the holiday at my tour managers' parent's house. We're going to partake in all of the usual Fourth of July activities and shoot off some fireworks, grill some brats and relax by the pool. I'm looking forward to relaxing a little bit. We are then heading off to Texas tomorrow. I'm excited to start getting down to the south again. I'll be checking in with y'all soon!
Week 4
Hey guys, I'm checking back in from Houston, TX. The band and I are baking in this Texas heat. The humidity is insane…I can barely breath! Two nights ago we played in Austin, man…what a great music town. The crowd was so attentive and into the music, it was incredible. I was also very lucky to have a horn section, called the 'Hell Fire Horns' play on entire set. Eric, Marcus and Raulo were absolutely incredible. I was completely blown away. The horns add so much depth to our set and the amazing background vocal from the ladies of Chic Gamine, one of my support acts, just top everything off. The band enjoyed having Hell Fire Horns on stage with us so much that we invited them to play with us in Dallas and again tonight in Houston. I am so blessed to have met these guys and am very gracious for them joining me on stage and doing a few extra shows with us.
I'm also very lucky to have Alpha Rev joining us for a couple shows. Austin was our first show with the guys and they absolutely killed it! I wish they could stick around for the rest of the summer tour.
Last night we played at the House of Blues in Dallas and again the crowd was incredible. I didn't think we could top the show in Austin, but I think Dallas takes the cake. I love playing at the House of Blues, it is an awesome room and was amazing to see it completely packed with everyone singing the along to my songs. We are at the House of Blues again tonight in Houston. I hope everyone in Houston brings the same energy as last night!
Tomorrow we are heading to New Orleans, which will be our final show with Chic Gamine and will end the first leg of our summer tour. It's crazy has time has just flown by and that we are already down with the first leg of our tour. It's going to feel really good to get back home to Louisiana for a couple days before heading up to the east coast. Next week we will be heading to New York and all over the northeast. I'll be checking in with y'all from up east!
Others Tagged With