All Points West 2009 Day Two: White Rabbits, ...Trail of Dead, St. Vincent, Kool Keith, Neko Case and More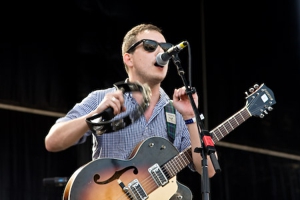 "New York's a pretty cool place," lisped Tool's Maynard Keenan from the All Points West main stage on day two of the mud-logged festival. "But all joking aside. You can't fuck with Jersey. Unless you want your ass kicked." Probably true, but fans seemed on good behavior as skies stayed clear, a cooling breeze whipping in from the water, following a rain-drenched first day, which led festival organizers to announce that Friday tickets (even if used) would be honored for Saturday and Sunday (no doubt a bad sign for the promoters).
[
Above: White Rabbits
]
White Rabbits, who really just keep getting more and more impressive, opened the day to a tiny crowd, albeit one that launched into a group-vocal rendition of "Percussion Gun" as the band members—all smiles and cigarettes—set up their gear. ...And You Will Know Us By the Trail of Dead made up for playing forgettable songs off their latest, The Century of Self, by unleashing Jason Reece into the crowd with a wireless mic as the band stormed through live favorite "Caterwaul." Adrian Grenier flocked to the Cool Kids' set. The Entourage "actor" was also seen snapping photos with fans before Chairlift, who sounded stunning from the small stage, if a bit eaten by their own bass. St. Vincent's Annie Clark teased the crowd with the opening bars to a Hendrix-style version of "The Star-Spangled Banner" on her guitar before launching into a scorching solo cover of the Beatles "Dig a Pony."
[
Above: ...And You Will Know Us By the Trail of Dead
]
[
Above: The Cool Kids
]
[
Above: Chairlift
]
[
Above: St. Vincent
]
[
Above: Kool Keith
]
[
Above: Ice-T
]
Not everyone, however, was in fine festival form. Kool Keith seemed timid (or maybe just stoned) as he took to the stage, even if Ice-T (right, that cop from TV) accompanied him as a third hypeman. Arctic Monkeys were loose but non-committed, purely going through the motions. And Neko Case and her Paula Dean-ish backup singer came across like SNL's National Public Radio sketch (sans the naughty wordplay)—dry and stuffy with banter falling flat, though no doubt technically sound. Case can sing, though that's really the only thing that kept us from scouting for an overpriced dinner ($10 for three fuckin' chicken fingers?) during her set, which included a plain-vanilla cover of Harry Nilsson's "Don't Forget Me." (The Walkmen do it better.)
[
Above: Crystal Castles
]
For your correspondent, though, Crystal Castles and My Bloody Valentine stole the day. Easy to disregard due to their ugly behind-the-scenes reputation, CC left us utterly converted. Even if the whole gag is a too-fake send-up, Alice Glass, a nightmarish presence, sells it insanely well, sputtering her tiny frame across the stage, a face-pressed strobe-light in hand, and hurling herself into the crowd as Ethan Kath worked up a frenzy launching the opening blips of "Alice Practice." On the main stage, Kevin Shields and company had us positioning for the perfect distance to take in the cacophony without ear plugs. Even if many of their effects were pre-recorded (Shields and Bilinda Butcher—sporting a bright red dress—mostly appeared only to be strumming chords), the sheer weight of this performance was oppressive, enough to choke a knot in your throat and threaten to cave in your chest. The guy beside us complained about not being able to hear any of the vocals, but dude, not the point!
Once the sun went down, All Points West seemed to come alive (perhaps because it no longer just felt like a crappy park in New Jersey). Too bad the music was almost finished. And as we hopped on our nearly cost-prohibitive transportation (the ferry ride is $25 each day), the sounds of Tool's "Schism" rang out across the water. Onward to day three.