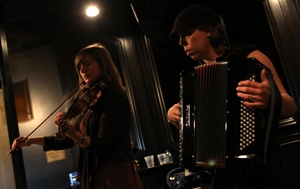 [Photo by Rachel Bailey]

Black Prairie, a project from the Decemberists' Chris Funk, Nate Query and Jenny Conlee along with fellow Portland musicians Jon Neufeld and Annalisa Tornfelt, played two of our day parties this week. The first was Thursday in the Galaxy Room backyard. Today, they took the stage at The Belmont, where they were joined by Austin's own Sarah Jarosz, who earlier in the day picked a mean banjo during a solo performance.
Black Prairie delivered a mix of toe-tapping Appalachian folk and darker Eastern European-tinged numbers that brought to mind a storm rolling over, well, a prairie. The band uses vocals sparingly, but when Tornfelt chimes in to sing, it's with a lovely, soulful alto. The addition of Jarosz brought a sort of aww-shucks country sweetness to the group's more upbeat numbers, and the band passed around solos like a hot potato, giving each member a chance to show their mastery of their respective instruments.



Others Tagged With