SXSW 2010: Low Budgets, High Outputs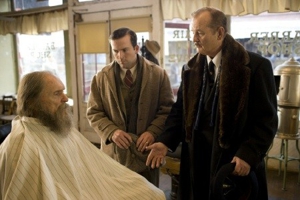 Get Low
With James Cameron spending half a billion on Avatar it's difficult to expect much from a film with a $7 million budget. But Aaron Schneider's appropriately titled
Get Low
beat all expectations with his lovely period piece about redemption and forgiveness in the waning years of an old man's life. It obviously helped to get Oscar winner Robert Duvall to play the lead role as the "hermit" of the depression-era Tennessee woods. Bill Murray, who says he did it to work with Duvall, plays the town's undertaker Frank Quinn whose business is slow because no one's dying. When Duvall, as Felix Bush, solicits Quinn and his assistant to throw a "pre-death" funeral party the planning of the event begins to reveal the reason for Bush's isolation from the world, a story that includes a past love affair with Mattie (Sissy Spacek). The performances between Duvall and Murray are superb as they spar with an easy wit that is enhanced by Schneider's adept editing of a script that is in turn enhanced by the performances. Southern films are beginning to make some noise. Last year Hal Holbrook shined in
That Evening Sun
, and the year before it was the acclaimed
Shotgun Stories
. Kudos to actors like Duvall, Murray and Spacek for working far below their pay scale to help elevate films such as these.
Lovers of Hate
Writer/director Bryan Poyser's 2005 breakout film Dear Pillow earned a Spirit Award nomination for its fresh look at sex and pornography from the viewpoint of a loner/loser/slacker teenager. In Lovers of Hate the loner/loser/slacker character is back in the form of Rudy (Chris Doubek) who has recently become separated from his wife Diana (Heather Kafka). Rudy's successful author brother Paul (Alex Karpovsky) pays a visit and ends up seducing Diana at Paul's cabin in the mountains, not knowing that Rudy is there, too—hiding. We uncomfortably watch, and irresistibly laugh, as Rudy listens in anguish to the couple's lovemaking. In spite of the excellent performances from this love triangle, Doubek's especially, I found it hard to care about any of them as they seem to care so little about the harm they're causing to each other. This, of course, could be Poyser's intent, opting to not provide his characters with the traditional, redeemable qualities we've come to expect in such situational narratives.

Dance with the One
A product of The University of Texas Film Institute, Dance with the One surprised me with its quality of performances and production as the first feature in America that was made by a non-profit institution. Its somewhat predictable story of a young drug dealer planning to turn over a new leaf by leaving Austin with his girlfriend to start a new life in Oregon is enhanced with some above average dialogue and strong acting from newcomers Gabriel Luna and Xochitl Romero as the two lovers. Anyone that has spent time in central Texas will appreciate the "feel" of the Austin area, albeit without the drug dealers.

Cold Weather
During the first half of this story about a brother and sister who decide to share an apartment I thought I was watching another mumblecore film that SXSW is famous for screening. And maybe the moniker fits Cold Weather to some degree. But director Aaron Katz soon develops the story into an odd mystery/adventure that is one part "Nancy Drew" and another part "Monk". Just when I thought we were headed for a typical tidy ending brother Doug (Cris Lankenau) and sister Gail (Trieste Kelly Dunn) mix tape me to a wonderful conclusion.