Bonnaroo 2010: It's Never Too Late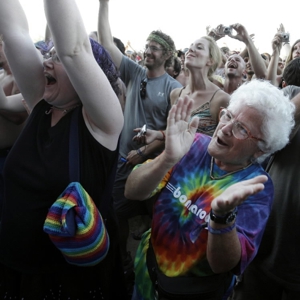 Photo Courtesy AP
I experienced Bonnaroo for the first time this past weekend and, besides being shocked by the sheer number of people at the festival, I was amazed by how many older folks were there. At nearly every show I attended, I saw at least one or two people who could have easily been grandparents. They were setting up tents, eating over-priced chicken fingers and sweating their you-know-what's off right along with the rest of us young-ins.
Some were standing behind me while I screamed and cried and belted out every lyric to The National's set. Others were next to me, sitting in foldable chairs under the "That" tent as they listened to Brandi Carlile cover Johnny Cash and The Beatles. But my favorite was the old man standing in front of me at the Tokyo Police Club show who would shake his groove thing and smile and occasionally throw a hand up in the air. He was like a 21-year-old stuck in a 60-year-old's body. They all were.
One couple I talked to said they had been coming to the festival every year since it began in 2001. By then they had both retired, and, as they put it, "had no excuse not to come." The owner of an antique furniture store and a teacher, their work required constant commitments that caused them to miss out on smaller art festivals and artistic happenings in their community. One of the first things they did after retirement was purchase an RV that they began driving across the country. Along the way, they stopped at several national landmarks, including Yellowstone and the Grand Canyon, but the very first leg of their journey took them to Bonnaroo. And they've been taking the same RV from the same small town in Indiana ever since.
The admiration and respect I had for these people and so many with similar stories impacted me in a pretty profound way. It helped me put things in perspective and stop complaining about the sweltering heat and the mud and the overwhelming crowds. And it made me look forward to the future and growing old, for once. I stopped looking at aging as a death sentence and started seeing it as an opportunity to have more adventures, meet more people and absorb more creativity.
Despite feeling more exhausted than I ever have ever, I walked away from the 'Roo feeling refreshed by the people I met and conversations I had. Even more than the music and the lights and the epic performances, these are the things that will keep me coming back for years to come.
Others Tagged With