Bonnaroo 2010: My 'Roo Impressions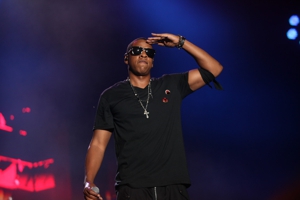 This year's Bonnaroo has come and gone, and with it I must admit that I feel a little wiser. I also feel more sunburned and physically incapable of walking farther than a few feet at a time without the mindset of a girl on a mission to see a show in the sun, but I'm trying to focus on the positive.
Bonnaroo is unlike any festival I've ever attended before, and this is including the weird stuff that goes down at suburban fair grounds and carnivals I frequented as a small child. (Suburban clowns are straight up frightening.) Bonnaroo is a test in endurance. In strength. In patience. If I'm being honest, it's also the kind of event that has more OMG moments than a bootleg of a dirty movie. Case in point: After a quick run-in with Coco in a cowboy hat yesterday I'm still unable to form complete sentences and phrases. I'm lucky I can still blog.
The most memorable times, for me at least, didn't happen when I was expecting them most. (They didn't even happen while taking stock of all the Bonneroo bros.) Yes, I admit that I anticipated an epic Jigga-Beyonce collabo that would rival their Coachella performance, but even Queen B's absence couldn't overshadow the other Bonnaroo moments that are bound to remain engrained in my memory. Like, oh, I don't know — did I mention that I got to see Stevie Wonder perform "Superstition" live while surrounded by tens of thousands of people going out of their minds? Because I did. I did, and it was awesome.
I remember seeing Mumford & Sons on the bill and I immediately vowed to get up close and personal for their set — I'd heard very good things and knew it was a show I shouldn't miss, but I also wasn't really expecting much else besides a high-energy set consisting of their best rollicking, rocking tunes. My assumptions were both correct and not when the group brought everyone close to tears and then invited Old Crow Medicine Show on stage for something everyone knows and can sing along to, "Wagon Wheel." As if Mumford & Sons didn't amp up the packed crowd enough already, a visit from their "new friends" helped them wrap up their set the right way.
More than just the musical acts and celeb-sighting-induced minor freakouts, I was also deeply impressed by some of the people I met. Being a northerner, I expected to encounter the phenomenon of southern hospitality I'd heard of, but Bonnaroo introduced me to a whole new breed of nice. I met brewers from New Orleans that brought their creative, delicious beers to share with the folk at the Broo'ers Festival Tent, a couple who gladly shared their blanket under a tree with me at Norah Jones, and several tall gentlemen who, noticing me trying to peer over their shoulder while on tip-toe, offered me the spot in front of them. (Thanks, guys.) Those were the kinds of things that made it a little easier to forget about my serious sweat stains and the oppressive force of the sun beating down on my skin for a few hours each day.
That being said, I'd like to wrap up with a few Bonnaroo apologies:
To the xx for jamming while standing in the crowd with my eyes closed. In my defense, I wasn't used to the fest's long hours yet and man they make some great sleepy-time tunes.
To B.O.B. for missing his set because I was hopelessly trapped in a zombie-like state while LCD Soundsystem played. I don't know whether it was LCD's music itself or the fact that it was four in the morning, but at that point it was just impossible to think.
To the National, for bawling like a small child during their second encore, "About Today." Wayne Coyne was watching them from the side of the stage, nodding and smiling approvingly like an experienced sensei and I just couldn't keep it together for those guys.
To anyone who happened to be standing or sitting near me during Jay-Z's set while I flailed, feigning swagger and screaming along with his lyrics. Look up the words to "Dirt Off Your Shoulder" and you'll know why.
To Bridget Kelly, who performed Alicia Keys' part in "Empire State of Mind" during Jigga's set. She killed it, but the sounds of disappointment when the crowd realized she wasn't Beyonce were heartbreaking.
Others Tagged With