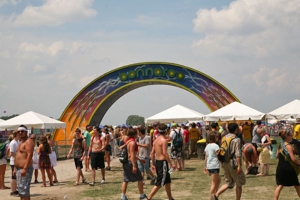 Before I left for my first ever Bonnaroo a few days ago, there was a lot of talk at the Paste office about what types of people we would encounter during the festival's four long days in the middle of Manchester, Tenn. There were two we expected most, hippies and hipsters, but we were wondered: which would outweigh the other? Or were we to encounter some new mutation, a blend of neo-hipcat-folkster types that opted for well-fitting satin vests over their thrift store flannel? Well, we just weren't sure.
After my first two days of 'roo fill, I'm actually pretty surprised we never even considered an entirely different type of 'ster altogether. How could we have forgotten about the ever-lovable bro? We didn't even mildly touch upon the one staple stereotype for nearly every music festival, especially a fest that bears its roots deep in the history of the jam band tradition. It should be mentioned that Bonnaroo has that. That, and it's being headlined by the Dave Matthews Band this year. (I'll admit my DMB fandom here, though I'm also fully aware of Dave's appeal to hackey-slingers and flip-cup champions.)
So, rather than counting hippies or hipsters in a tally I began noticing the countless varieties of the bro. Sure, plenty has already been archived and written about the bro -- if memory serves me correct, I believe "icing" is the latest brocentric phenomenon to receive documentation. I know that plenty of dudes in Hollywood claim "bromances" with one another. Well, Matthew McConaughey, you can keep your barefooted brohugs, if you weren't at Bonnaroo 2010, you can't consider yourself any type of bro.
As I write this, I'm next to the Carolina Chocolate Drops -- they're rocking out on fiddles and I'm pretty sure I hear someone rhythmically blowing into a jug -- but even here I'm able to scope out a fresh market of bro-produce to choose from. (Is it too soon to coin a phrase like broduce?) Take this guy: the one lying supine, fingers folded on his chest, hat on his face. He's Sleepy-Bro. Now, that's not to say that all he does is sleep. Thing is, he's not bothering anyone, and he sure won't be in anyone's way anytime soon -- I mean, he's is able to pass out while no more than eight feet away from the speakers at a rollicking, ragtimey live show. Upon closer inspection, I notice that Sleepy-Bro has a buddy lying next to him -- ah, the bromance live and in action. A truly beautiful display of affection and companionship.
In addition to Sleepy-Bro, some of my other favorites so far included a pair of Stoked Bros at Edward Sharpe and the Magnetic Zeros earlier who, with arms around each others' shoulders, fist-pumped and head-banged until they had to hold each other up. And needless to say, I've encountered many more Sweaty Bros than I'd like to specifically recall.
I've been pleased with the assortment of bros and their 'mances that Bonnaroo has offered thus far, and I intend to seek out plenty of different variations. I'll be tweeting them under #bronnaroo. Join me, as I explore the abundance of bro-types in one of their favorite natural habitats: the music festival.
Others Tagged With