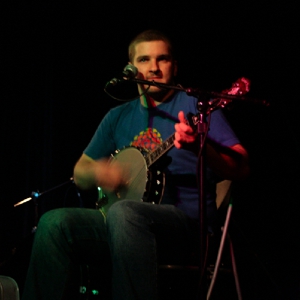 After a couple of days in Toronto, I am starting to get the hang of NXNE. Since Toronto's five-day festival is modeled after Austin's massive SXSW festival, I had prepared myself for the same kind of frantic insanity that I have come to love in Austin, Texas. But while SXSW feels like college finals week--rushing around a campus trying to cram as much as possible into every moment, the scene here in Toronto feels much closer to that of a snow day.
Both festivals are full of nearly limitless possibilities, but the schedule of NXNE is completely uniform, meaning shows across the city start at the top of every hour and each band is allotted an hour for their performance and official shows don't begin until 8pm. The result is a slower pace, but one that allows bands time for sound checks and results in sets that feels closer to that of a normal performance. That relaxed feeling doesn't entirely carry over to the casual festival-goer. Because the venues are spread across several miles worth of the city, it means a bunch of walking, cab rides, or in my case,the occasional full-blown spastic windsprint .
But the long hauls between venues are worth every step. Here's a list of my favorite shows from NXNE so far.

Volcanoless in Canada - After spending far too much time having a Neon Showdown in my mind yesterday, I decided to check out this Saskatoon-based pop band. For much of their set, the band played acoustic guitars as loud and energetically as I have ever heard. And if the music alone hadn't won me over, the band's lead singer Mitch Lysak's enthusiasm is enough to make almost anyone a believer.


The Mountains & The Trees - Being a singer-songwriter at a massive music festival has got to be a tough gig. Unlike lots of the louder acts, it often takes a performer like Jon Janes a bit more time to grab the attention of an audience. Janes had a couple big advantages over most of his fellow acoustic musicians when taking the stage at the Gladstone Hotel Thursday night. First, he had a ringing endorsement and introduction from Craig Norris of CBCRadio3. Secondly, he had the song "Goodbye Little Town," a simple ballad about leaving his tiny hometown in Newfoundland. Written like a bittersweet break-up song and backed only by multi-instrumentalist Jillian Freeman and his own simple guitar line, the song feels just like home, and what it feels like to leave it.
The Sleepy Vikings- This Florida band seemed to embody their name, but for a good reason. They had driven 26 straight hours from their home of Tampa for the show. For most of the show, the band's singer and keyboard player, Tessa McKenna looked as lively as I do when staring at the toaster oven in the morning, waiting for my bagel to get crispy. But expressions aside, the band delivered song after song of rich southern shoe-gazey goodness, and their song "Calm" has been following me around like a stray dog ever since they played it.

Anais Mitchell - After falling deeply in love with her recently-released album Hadestown (along with most everyone else at Paste ), I knew I absolutely could not miss Mitchell's show. However, I almost did just that by walking a couple of miles in the wrong direction on my way to Mitchell's only scheduled performance at this year's NXNE. After realizing my mistake, I unabashedly sprinted to the venue, hurdling over homeless people, and zig-zagging through crowds to make the final few songs of her set. After hearing one song, I knew that all my frenzied running, jumping and unintentional body-checking of an elderly woman had all been worth it. Unlike her almost orchestral record, Mitchell performed solo for most of the set. And although a 1am solo performance could be the audio-equivalent to a handful of ambien, Mitchell created as much energy as you would hear at a good punk show. She seemed to treat her microphone like a newly created instrument, swaying to and away from the mic like a tamed snake all while belting out superhuman vocal runs that would make an American Idol contestant jealous. After Mitchell finished her last song of the night, I thanked her for the performance, and headed home for the night, knowing that nothing could top her performance.

Others Tagged With