Peach Kings Win Alternative Apparel Unsigned Artist Competition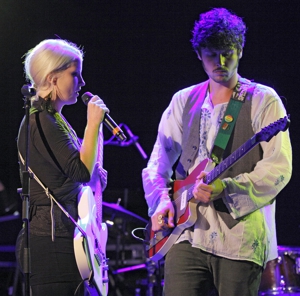 Photos by Randy Brooke.
Sometimes advertising mixes with what we media types call "content" in ways that are genuinely beneficial. Recently, I had a chance to judge, American Idol-style, the finals of an unsigned artist competition hosted by the Atlanta-based clothing company, Alternative Apparel. Of course we had to head to NYC's Le Possion Rouge—a terrific venue, but still.
Four young acts had a chance to up their games and get some good feedback. And I look forward to hearing more from three of them.
After online voting narrowed the broad field down to four, we gathered for a set of live performances—two songs from each band, an original plus a cover the Paste-blessed Aqualung song "Brighter Than Sunshine." And then, the moment I wasn't waiting for: the mic getting passed down to each judge to give their critique to each band while the audience listened. Do I go the Ellen route or the Simon route? Definitely NOT the Randy route, DAWG. Fortunately, it was easy to find something helpful to say.
The four acts in contention to be the new voice and face of Alternative were:
And the winner (the judges were pretty unanimous about this):
Sort of a mashup of The White Stripes and, as others have said, a Bridget Bardot/Serge Gainsbourg vibe. Fellow judges Vh-1 reality star Kelly Cutrone, former Epic boss Charlie Walk, Columbia Records talent-finder Jay Harren, Alternative Apparel founder Gregg Alterman and little ol' me were totally impressed by the level of chemistry shown by the duo. Expect to hear them on a Paste Sampler sometime soon.
Others Tagged With