A First Timer's Field Work at CMJ: Day 4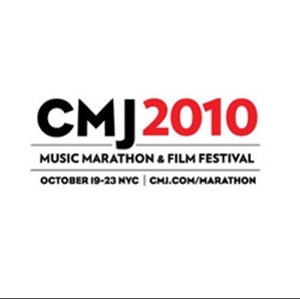 A friend told me halfway through my fourth day at CMJ that I would hate music after this week. You'd think that would be the case at the pace of this event (and it certainly is with some of the music I've seen), but time is a'tickin on the final day of CMJ and I'm still compelled to go soak in the remaining acts. To a certain extent, this week-long music showcase keeps me running because of the whimsical, almost improvisatory way in which almost everything that's seen or heard is devoid of expectations. Sure, there's buzz involved with some bands, and I may have sampled a bit of their music on MySpace or some other online source, but the performance that they put on with a captive audience in front of them is usually the truest display of what they have to offer.
Big sounds came from New York City's Hooray for Earth as they played a brief 3 p.m. set at the Bowery Electric. While some of their songs lacked a real center or focus, it was their final tune "Surrounded By Your Friends" that provided the takeaway. Reverb-heavy vocals, handclaps, and a catchy melody that has potential to float around in your head for days make this song and band one that's worth going back to at week's end.
It's a good sign when I look back at my notes from a show and see that in the moment the music compelled me to write something like "Dusty Springfield gospel rock". The frontwoman for the Mynabirds is Laura Burhenn, and her stage presence is all about sincerity. Within moments of stepping to the microphone, she managed to melt away all the self-conscious, too-cool snobbery that is seen throughout this industry event and have her audience smiling, participating, and generally having a good time. With her smoky, sensual voice and country-tinged approach to songwriting, Laura creates songs like "We Made A Mountain" and "The Numbers Don't Lie" that are almost instant singalongs.
The easiest way to see tons of music at CMJ I've found is to camp out around a grouping of bars on Ludlow St in the Lower East Side that include Pianos, Living Room, and Cake Shop. While I was posted at Pianos on Friday evening, I ran across an Australian band called The Jezabels who have apparently spent recent months touring as the support act for Tegan & Sara. Fronted by 23-year old spunky rocker girl Hayley Mary, this band packs a tight, large rock sound and a stage presence that could very well find them on a big stage in short time.
Bright tropical sounds were not what I anticipated while making my way into the main room at Pianos for Lord Huron's early evening set on Friday. This is a band that's heavy on the reverb and bright melodies. The backdrop of hula girls and other island images projected on a screen certainly helped them set the proper mood for their music. Fans of Vampire Weekend, Fleet Foxes, and Local Natives should keep a lookout for these folks as they've got something familiar, yet original to bring to that grouping of bands.
It was during the Lord Huron performance that I was able to get a few words in with Neon Indian's Alan Palomo who at this time last year was being run through the CMJ gauntlet but now has the luxury of playing a select few shows during the week. As I commented on his amazing ability to remain grounded in the arts and the overall music scene and not center his conversations around the hype machine of his own projects, he shared some advice that's invaluable to musicians but also anyone out there that's caught up in this social media-centric world. As Neon Indian began their ascent into the buzzy blogosphere, his friend told him to "Stop googling yourself and play your music" and that advice has enabled him to remain focused on his work and humble in his daily interactions.
Late into the evening I managed to catch up with a band at the Bowery Electric that I've been meaning to see all week and that's Bear Hands. Their upcoming Cantora Records release, Burning Bush Supper, comes out on Nov. 2, but their Friday night set proved that they're ready to make their rounds around the country. The music is aggressively catchy and highly involved instrumentally, but the lead singer's voice is still able to cut through all the busyness that you hear. The stage show is polished, and they're rocking a big sound so I look forward to giving a listen to what they've put down on record.
I'd be lying if I said that its not exciting to see the light at the end of this dark CMJ tunnel, but the Day 5 lineup is stacked, and it's time to take the final descent. See you on the other side!
Others Tagged With