A First-Timer's Field Work at CMJ: Day 5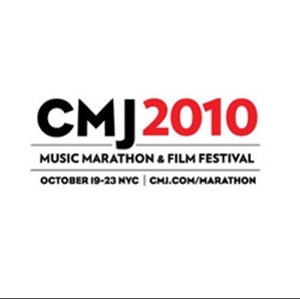 While it certainly would not be uncalled for to lament missing the surprise performance from Kanye West at Brooklyn Bowl on Saturday night or Daft Punk's cameo with Phoenix for their encore at Wednesday's Madison Square Garden show, I think I can find perfect satisfaction in having seen 48 acts over the last five days, most of which were completely new to me. Its an obscene amount of music by anyone's standards, but when taken in the context of CMJ's lineup of over 1,000 bands, we're talking about less than five percent of what was out there. CMJ'ers have no choice but to set a breakneck pace in order to even make a dent. Admittedly, I'd slowed my gait by the final day, but still caught some noteworthy acts.
One of the few groups that I'd had some time to listen to prior to CMJ was Minneapolis chamber folk outfit Dark Dark Dark, whose album entitled _Wild Go _was released on Oct. 5. Their show at Fontana's on Saturday began before 1 p.m., so as I stood clutching a Bloody Mary and hearing the sounds of clarinet and accordion, there was an undeniably transportive quality to the experience. Maybe it was to a New Orleans jazz brunch or a less-defined otherworldly destination conjured up by Nona Marie Invie and Marshall LaCount's distinctive songwriting. It's a noteworthy balance that's struck between beauty, familiarity, and surrealistic imagery that gives pause to the audience at one of their performances. The themes of travel, places, and homecoming that are found in "Daydreaming" and several other compositions offer an appreciation for the wonders of this world that makes future journeys with this band very inviting.
Bands at CMJ are challenged by New York City parking, quick set changes, little to no sound check, and limited stage time. On top of that their audience tends to range from unaffected industry folks to overstimulated music enthusiasts. Facing this kind of environment means that the music must be able to make an immediate impression. That's why a band like The Generationals and their snappy three-minute rock songs had a leg up at their performance on Saturday afternoon at Pianos. While there's definitely a nostalgia for 1950s songwriting in the mix, they manage to keep the rough edges that prevent the music from falling off the too-cutesy cliff and allows them to engage a forward-looking audience.
Spending a bit of time in Brooklyn seems compulsory for the CMJ experience or at least that's what I was told by friends who were trying to get me down there. Late on Saturday afternoon, we ended up at Southpaw watching Baltimore's Lower Dens. Their droning New Wave rock is not as depressing as my description makes it seem. Somehow there's a cathartic quality about the repetitive and brooding delivery in their music, and I'd imagine that with a bit of studio trickery they could put together a very compelling album.
It's only fitting for my first CMJ to come to a close with another spectacle at the Santos Party House (see my Day 1 recap). For those unfamiliar with the New Orleans tradition of sissy bounce music, it's a hypersexual gender-bending style of Southern rap that is said to have originated in the early '90s. As you may well imagine, this genre has not caught on in mainstream culture, but the scene at Big Freedia's performance late on Saturday night would perhaps suggest a promising future. As a team of scantily clad androgenous dancers filled the stage, Big Freedia started into a song called "Azz Everywhere" spurring an entire club to stare at each other for a few moments of bewilderment. Soon after, I watched as a large contingency of female members of the crowd stormed the stage to join in the graphic sweaty dance party that had ensued. With wide eyes and mouth agape, I wondered if the fantastically bizarre nature of this scene would wear off, but it didn't. Although it was certainly more spectacle then substance, the experience of seeing Big Freedia will go down as some of the most unshakeable images of the week.
For all those attendees who are now in recuperation from what is indeed a music marathon, I wish you a congratulations. If you've never been to CMJ before and don't mind persevering through an endless amount of music for the payoff of finding a band that's new to you and most everyone you know, then go next year. Either way, I hope you've enjoyed navigating the treacherous waters of CMJ with me. I'm glad to have now returned home intact and with a bit of buried treasure in tow.
Others Tagged With