Three Days In Asheville: Moogfest 2011 Recap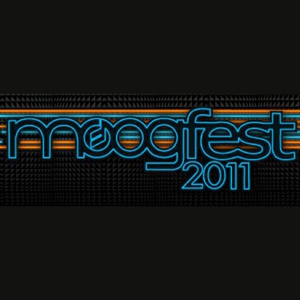 It was a cold and rainy afternoon in Asheville N.C. The kind of miserable wetness that makes even the most stalwart partygoers want to stay inside. The kind of cold that chills to the bone, with alternating mist and deluge ensuring clothes stay decidedly damp. But this wasn't stopping me, or from the looks of it thousands of amped-up rave kids ready to dance their sequined rainbow pants off. This is the tale of three days in Asheville. Welcome to Moogfest 2011.
While the streets outside flickered cold, damp and dreary, the Asheville Civic Center took form of safe haven. Warm, dry and most importantly loud. A sizable crowd had taken refuge from the elements, softly jamming to The Antlers on stage. My original plan had been to hop around various venues before settling in to the Civic Center for Moby and TV on the Radio, the night's headliners, but with the streets chilly and unforgiving stance, tucking in at the Civic Center was too appealing to pass up.
Soon after my arrival, Holy Fuck, brought on a full array of assorted noisemakers, the most notable an antique-looking filmstrip projector. Film unceremoniously pulled through added one of the many unusual noises Holy Fuck uses to create their signature sound. I took the opportunity to survey my surroundings. The combined powers of Halloween weekend and an electronic music festival had come together to create a crazy collage of costumes. The standard party attire was some sort of amalgam halfway between standard Electric Daisy Carnival-fare and a college Halloween. Look left and you see girls rocking neon wigs and technicolor tights, while to your right stands a six-foot squirrel dancing with an amazonian warrior.
With no major conflicts, most of the festival's attendees were now joining the Civic Center's warmth to get trippy with Moby. A perfect summation of the set came when Moby himself called out his own song, proclaiming Moogfest to be a bastion of "intelligent electronic music," moments before performing what he called his "least intelligent electronic song." His prediction was correct though; we all danced our asses off to "Bodyrock" all the same.
Joined by a full band complete with an accompanying female vocalist, Moby went through much of his extensive song collection, highlighting everything from the hits off Play to lesser-known ethereal anthems. As the end of his set approached, foregoing the standard walk-off encore reappearance, Moby took the time to ask a simple question. "We have about six minutes left. Would anyone mind if for the next six minutes, we just turn this place into a giant disco party?" I can assure you; nobody minded.
To finish out Friday night, Moog partiers had two main choices: venture forth to catch Flying Lotus or stay in the Civic Center for TV on the Radio. I opted for the latter, with TV on the Radio being one of my main draws to Moogfest from the get-go. Was it worth it? Absolutely. The boys from Brooklyn played mostly songs from their two most recent albums, Nine Types of Light and 2008's Dear Science,, with notable exceptions being "Wolf Like Me," which rounded out the pre-encore set, alongside a few others from Return to Cookie Mountain and Desperate Youth, Blood Thirsty Babes. "Rowdy" was the only way to describe the feeling in the room, as the packed Civic Center auditorium jumped and danced through the nearly two-hour set.
Saturday gave way to significantly more forgiving weather, bringing sunshine instead of rain alongside the mountain cold. A good sign, as the biggest show of the day was The Flaming Lips's extravaganza at the parking lot-turned "Animoog Playground" outdoor stage. Crystal Castles got the crowd moving and warmed up before the Lips took the stage. The signature flashing-screen-turned-trapdoor entrance of the Lips led into frontman Wayne Coyne riding the crowd in his famous inflatable hamster ball. The energy of the crowd kept things going during early songs "She Don't Use Jelly" and "The Yeah Yeah Yeah Song," but Coyne's proclivity to talking for a while between songs meant us in the crowd were shivering more than we liked. After an hour or so of being rained on by confetti, I was faced with the first major conflict of the festival: leaving The Lips to catch Amon Tobin and his groundbreaking electronic set.
Was it worth it in the end? Hard to say. Amon Tobin's ISAM performance was lauded by most attendees as the highlight of the festival, featuring a bass-heavy experimental electronic sound accompanied by new 3D light-mapping technology projected on a cube structure from which Tobin himself sat and performed. The light performance was extraordinary, like nothing I've seen before, but the music I found ultimately underwhelming. Maybe it was the ultra-high expectations I entered with, maybe it was having to step away from the Lips, maybe I just wanted to dance, and the slow-moving melodic bass explosions provided little opportunity. Whatever the case, it was certainly unlike anything I had ever seen before, and will most likely remain one of the most unique and interesting performances I have ever experienced for many years to come.
Rounding out Saturday night, Sound Tribe Sector 9 formed a stark contrast to Tobin's previous set. Where Tobin sat alone in his DJ box, lined on all sides by light-mapped 3D cubes, STS9 filled the stage with their various members, bringing life to the upbeat electronic-instrumental sound. With hands on the barricade front-and-center, I danced the night away with thousands behind me, proudly waving my glowsticks in the air.
Sunday was thankfully sunny again, though I was again faced with a difficult decision. Childish Gambino's Animoog Playground set ended the same time as James Murphy and Pat Mahoney's Special Disco Version began, and on the exact opposite side of downtown Asheville to boot. It's no secret that we are huge fans of Donald Glover's work here at Paste, but having not seen Murphy since trekking to New York for LCD Soundsystem's farewell performance, Special Disco Version was a can't-miss show for me. Having seen Donald Glover's Gambino performance a few months ago, I knew what to expect of his live-band approach to hip-hop music. He kept the vibe upbeat and the energy flowing, kicking things off with "Freaks and Geeks," "Bitch Look At Me Now (Two Weeks)" and his version of Adele's "Rolling in the Deep," before launching into some new material from his upcoming album Camp, including "Heartbeat," which features what sounds like a sample of Justice's "Waters of Nazareth." Following a few more new songs from Camp, I began the long trek back to the Civic Center to catch Murphy and Mahoney's Special Disco.
In this case, was leaving Gambino worth it? Absolutely. LCD and dance fans alike packed the Civic Center auditorium for Murphy and Mahoney's DJ set. "You know we're just gonna play records right?" Murphy joked as he appeared on-stage. "Yeah! Play records! We love you James!" was the resounding crowd response; a fitting beginning to one of the most epic DJ sets I've ever experienced. There wasn't much in the way of flashy lights or extravagant stages, just a signature disco ball spreading its twinkling lights of love across the thousands of dancing discoers. There's really not a lot to say about the set. The music all spawned from records spun by Murphy and Mahoney on stage, but at the end of the day, there's really only one thing that matters—it was a whole hell of a lot of fun.
Others Tagged With