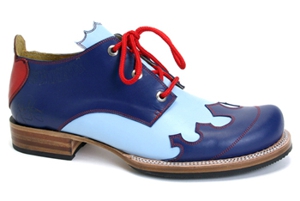 Welcome to Form&Function! Here, we'll showcase useful products, stylish finds and other entertaining tidbits, like the occasional how-to or recipe.
Without further ado, the first post:
Shoe designer John Fluevog and Brother Daniel of kooky musical act The Danielson Family have collaborated on a limited-edition, unisex shoe for clowns stylish music lovers. Love it or hate it, we can all agree that the design makes a bold statement.
If you are John Fluevog: I'm sorry I don't like the shoe. I do like some of your other, more delicate designs. But our publisher Nick LOVES the Danielson shoe. Feel free to send him a pair (Size 10, PO Box 1606/Decatur, GA 30031), but I should warn you that he's under the impression that the crimson details are actually orange.
The shoes will be available sometime this Winter. Price TBD.
Do you LOVE them or HATE them?

Others Tagged With