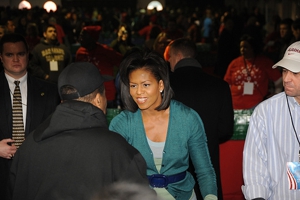 Happy Inauguration Day, or as Josh likes to call it, Coronation Day! If you need a superficial break from politics, check out the Mrs. O blog for updates on First Lady Michelle Obama's fashion statements.
The fashionistas behind the blog update regularly with photos, sketches, info on Mrs. O's clothing and predictions on what she'll wear to major events. They already have images and commentary up from today (she looked stunning in a yellow suit), and I plan to check back for more pics after the inaugural balls tonight.
After you check out Mrs. O, head over to the new-and-improved
WhiteHouse.gov
. I LOVE the redesign. Congrats to Macon Phillips and the entire White House New Media team for creating a clear, confident and lively new website.
Others Tagged With