Plaid Jam: Channel Vedder & Co. Through Their Signature Print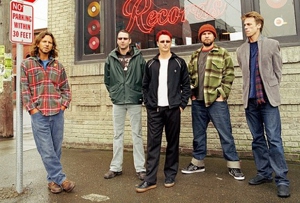 When you think of Led Zeppelin, you don't think of polka dots. When AC/DC comes to mind, your first association is hardly "Ooh, houndstooth!" But if there's one inextricable association between a modern rock band and a specific pattern of fabric, it's definitely Pearl Jam and plaid.

From their earliest days, the band swathed themselves in flannel shirts paired with those now-classic Doc Martens and raggedy, cutoff shorts. Part punk, part lumberjack, it became the definitive look of many groundbreaking grunge acts of the early '90s, but—musically and fashion-wise—Eddie Vedder and his boys from Seattle that have remained the most visible torchbearers off the tartan generation.

Though many of Pearl Jam's early contemporaries and fans alike have long packed their flannel attire up in mothballs or schlepped it back to the thrift stores from whence it came, plaid has crept back in full force this fall. Perhaps ironically, everyone from big-box retailers to uber-mainstream mall stores are stocking their shelves with the stuff this season—for now, at least, you hardly have to scrounge through second-hand bins to recreate a bit of the grunge look for yourself.

Here are some of our favorite weirdly mainstream, early-Pearl Jam-channeling picks for fall, with a few Etsy finds thrown in to atone for the serious un-punkishness of it all.

For Ladies:


Anthropologie, $118.00
|
Target, $19.99
HydraHeart on Etsy, $48.00
Urban Outfitters, $58.00
|
Anthropologie, $288.00
StudioDezigns on Etsy, $18.00
|
Gap, $49.50

For Gents:
Target, $24.99
|
Urban Outfitters, $49.00
sewlutionsbyamo on Etsy, $65.00
|
Target, $14.99
Urban Outfitters, $85.00
Gap, $3.99 and $9.99
Others Tagged With