Kristen Bell, Ryan Gosling, Pete Wentz, Many More Help Invisible Children Pass U.S. Legislation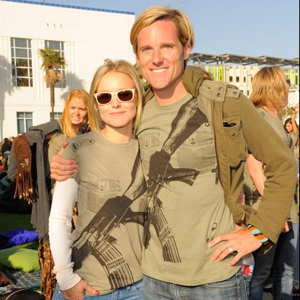 The cause of documentary filmmakers Jason Russell, Bobby Bailey and Laren Poole was first portrayed in 2004 with the release of their 52-minute film, Invisible Children: Rough Cut. Six years later, the trio (who have since established the non-profit Invisible Children Inc.) is now basking in the disbelief of having a bill directly related to that cause signed into law by President Obama.
The bill, formally titled the Lord's Resistance Army Disarmament and Northern Uganda Recovery Act, requires the U.S. to seek a means to end the atrocities that have been taking place in Uganda and surrounding African countries over the past 23 years. According to the Invisible Children website, a rebel movement led by Joseph Kony, the Lord's Resistance Army, has been at war with the Government of Uganda since 1987. In order to continue fighting in what has become Africa's longest-running war, the LRA has slaughtered thousands of innocent civilians and kidnapped children, forcing them to become soldiers for their cause.
Through various campaigns and screenings of the documentary, Invisible Children has managed to raise millions of dollars and team up with thousands across the country who have demanded an end to what has been called "the most neglected humanitarian emergency in the world today." Pete Wentz, Kristen Bell, Rachel Bilson, Ryan Gosling, Paramore, Frightened Rabbit, Aaron Gillespie, Oprah, Guess CEO Maurice Marciano and Switchfoot are just a few of the actors, artists and prominent cultural figures who have stood alongside members of the organization to help raise the awareness and funding necessary to gain U.S. Congressional support. They have released promotional videos, slept outdoors, donated money, advocated on national television and lobbied the government so that Invisible Children can help bring peace and restoration to a nation devastated by what the U.S. Patriot Act of 2001 deemed acts of terrorism.
Before taking a closer look at how influential artists were able to garner support for Invisible Children, check out a video of the organization's founders sharing what it was like to watch President Obama make the most widely-supported Africa bill in U.S. history a law:
Obama Said Yes! from INVISIBLE CHILDREN on Vimeo.
You probably recognize her as Sarah Marshall from Forgetting Sarah Marshall or Veronica Mars from Veronica Mars, but off camera, Kristen Bell has been one of the most adamant advocates for Invisible Children. She is pictured above with founder Jason Russel, volunteering at an event called The Rescue. Inspired by the organization's 2009 documentary, The Rescue of Joseph Kony's Child Soldiers, thousands across the globe gathered at various locations on April 25, 2009 in an effort to "abduct themselves for the abducted." They were instructed to remain at their designated location until a politician, artist, actor or local celebrity "rescued" them by reciting an anthem dedicated to the emancipation of Uganda's child soldiers. Check out Bell's promotional video for the event, which also features Kirsten Dunst, Pete Wentz and Joel Madden, below:

Kristen Bell for Invisible Children

Invisible Children | MySpace Video
Members of Paramore also participated in last year's event, rescuing the thousands gathered in Orange County California. Check out a video of frontwoman Hayley Williams reciting the anthem: "We are abducting ourselves to pose the question to our leaders, 'Is their life as valuable as mine?' We are shaping human history by closing the divide between resources and responsibility, distance and disinterest, awareness and action. This is about redefining our role in the world."
Frontman for Clearwater-based The Almost, Aaron Gillespie created several videos leading up to The Rescue inviting musicians, including Paramore and Bono, as well as President Obama to the event.
Following Gillespie's lead, Switchfoot even asked the Jonas Brothers to participate:
After Russel, Bailey and Poole, along with a few dozen others, camped outside of Harpo Studios in Chicago, Oprah Winfrey recognized the organization's efforts. She took the first five minutes of her April 25 show to tell the world about The Rescue and encourage viewers to watch the films and write their representatives:
Prior to The Rescue, Invisible Children hosted a similar event called Displace Me. Taking place April 28, 2008, the gathering brought nearly 100,000 together to raise awareness about the displacement camps where citizens of Uganda reside after being forced from their homes. Participants were encouraged to write letters to their representatives that included a current photo of themselves wearing a white T-shirt with a red X. A few weeks after the displacement, Ryan Gosling teamed up with Invisible Children to pass the letters out in person. Check out a video of the original filmmakers and Gosling in DC below:
Fall Out Boy's Pete Wentz also advocated for Displace Me by appearing on Larry King Live with Invisible Children's founders and releasing his own promotional video for the event. He and the rest of his Illinois-based band traveled to Uganda the year before the event (2007) to shoot the music video for "I"m Like a Lawyer the Way I'm Always Trying to Get You Off (Me & You)," below:
Maurice Marciano, CEO of Guess, was also moved to raise awareness and funding for Invisible Children. He partnered with Vanity Fair and allowed his daughters, Caroline and Olivia, to help him design a clothing line for the organization that launched in 2009 at a party hosted by Kristen Bell, Rachel Bilson and Pete Wentz. The women's racerback tank tops and men's T-shirts were both made from Edun Organic Cotton, which is grown in Uganda. One hundred percent of the proceeds from the shirt sales went to Invisible Children.
Others Tagged With