Jason Mraz, Ben Harper, Dr. Dog, Mavis Staples, More to Play Life is Good Fest, All Profits to Charity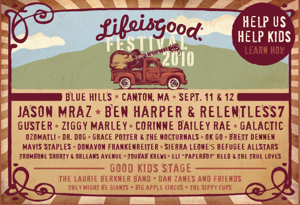 The Life is Good Festival, held Sept. 11-12 at Prowse Farm in Canton, Mass. (a suburb of Boston), aims to raise $1 million for kids facing life-threatining challenges. The festival is an all-ages, family-friendly event that features big name bands like Jason Mraz, Ben Harper, Dr. Dog, Guster, Mavis Staples, OK Go, Corinne Bailey Rae, Grace Potter & The Nocturnals, and Toubab Krewe, as well as children's artists like The Laurie Berkner Band, They Might Be Giants, and Dan Zanes and Friends.
The concert, billed as "Life is Good Festival at Blue Hills," is promoted by Superfly, the folks behind Bonnaroo and Outside Lands music festivals, and boasts entertainment including games, art, and circus performances in addition to the music. The Life is Good Foundation has held festivals before, raising over $3 million for kids threatened by violence, illness, natural disaster and poverty.
Tickets are $50 for a single day and $90 for a two-day pass, for adults. Children ages 6-12 can get tickets for $10, but these are in limited supply. Admission is free for children under five. All profits go to the Life is Good Foundation. Tickets are on sale now and are available for purchase here.
Others Tagged With