Back to the Future Memorabilia to be Auctioned Off for Charity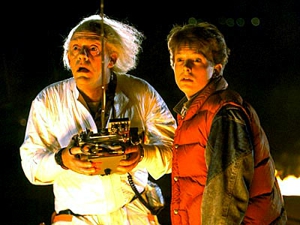 Hollywood auctioneer Profiles in History will team up with The Michael J. Fox Foundation on Nov. 6 to auction off some Back to the Future memorabilia.
The auction will take place at 6 p.m. PDT at Universal Studios' Globe Theatre in Los Angeles. Proceeds from the auction will go towards Parkinson's disease research.
Fans can place bids on a number of movie props, including one of Marty's self-lacing sneakers, his resizing jacket and the Grays Sports Almanac from Back to the Future II, an OUTATIME license plate, an 1885 map of Hill Valley from Back to the Future III and a life-size replica of the famous DeLorean time machine.
Check out the full list of items that will be auctioned off here. Proceeds from a selection of the items will also benefit Variety — The Children's Charity of Southern California.
Others Tagged With