David Byrne Sells Tree Drawings for Charity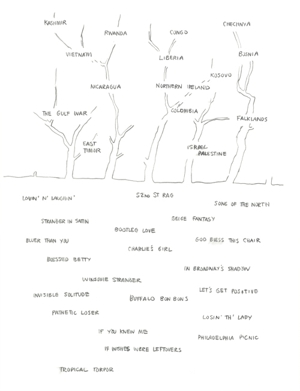 Former Talking Heads frontman David Byrne will sell limited edition prints of Roots of War in Popular Song (forest of no return), one of his tree drawings, to benefit art-promotiing organization, Creative Time.
Byrne says this particular tree drawing illustrates the connection between war and popular music. He writes:
In this drawing I propose that the roots of conflict and wars lie in popular song. Well, not exactly. But yes, also. Popular song can be viewed as a measure of sentiment, feeling, and values, and of what a culture projects as their identity…Songs and the sentiments that they contain are emotional memes that worm their way into the general culture and are at the same time a reflection of that culture. In that sense they're a distillation-culture concentrate. And the hubris, vanity and self-image of a people are all there, waiting to collide with those of The Other, like particles in an accelerator. Lots of energy is released as a result. Is this crazy talk? Maybe, but do you feel lucky? Whatever, the song titles are pretty good — but they're not, I admit, verifiable.
There are 600 prints of the drawing. The first 200 have already sold out. Print numbers 201-400 will be sold here for $100, and 401-600 will go for $150 a pop.
Others Tagged With