Stephen Colbert Auctioning Off Portrait for Educational Arts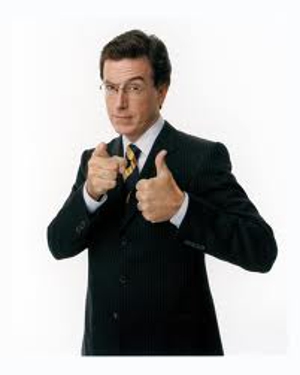 Stephen Colbert's portrait will be housed in the Phillips de Pury's exhibition space in New York City later this month until the auction house holds it's March sale. Proceeds from the sale of the portrait will be donated to various school arts projects through DonorChoose.org. The online charity helps to connect donors to classrooms in need.
"Portrait 5, Stephen(s)" was shown in a Dec. 8 episode of The Colbert Report", in which Colbert had given the portrait to comedian Steve Martin. The host first had artists Frank Stella, Shepard Fairey and Andres Serrano raise it's value before giving the gift to Martin. The artists glanced at it, spray-painted it and Sharpie'd it in turn to raise the portrait's value.
Other versions of Colbert's portrait have hung in a Saudi prince's palace, exhibited in the Smithsonian Institution's National Portrait Gallery in Washington and in a South Carolina BBQ Restaurant. And here we just keep our portraits on the mantle.
Others Tagged With