16 things to watch other than the Thanksgiving Day Parade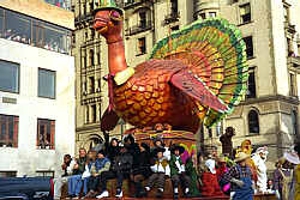 When I was a kid, I loved coming downstairs on Thanksgiving morning to the smell of turkey in the oven and the Thanksgiving Day Parade on TV. My excitement lasted about ten minutes before I was ready to watch Full House. I don't keep up with the Tanner family anymore, but I still couldn't care less about the parade. If you share my lack of enthusiasm for the TV event of the season, might I suggest the following programs instead?
1. 9am: CMT Music (CMT)
Start off your Turkey Day with some country-music videos. Thank me later.
2. 10am: The Closer (TNT)
If you can get past Kyra Sedgwick's fake southern accent, this is actually a great show.
3. 12pm: National Dog Show (NBC)
Over 2000 canines compete—it's kind of like a parade, only better.
4. 1pm: Big Mac: Inside The McDonald's Empire (CNBC)
The dog show's not quite over yet, but can you really pass up an in-depth look at the McDonald's Corporation? (Fun fact: McDonald's is open on Thanksgiving.)
7. 2pm: Miracle On 34th St. (NBC)
You can hop up during commercials to check on the turkey.
6. 4pm: Real Housewives Of New York City Reunion (BRAVO)
Jill and Ramona's catfight will never get old. And it makes for good background noise during a family Thanksgiving dinner. (Reminder: Be thankful you're not Ramona.)
7. 5pm: Cash Cab (DSC)
Also good background noise. Plus it can turn into an interactive game, which can turn into family bonding.
8. 5:30pm: Thelma and Louise (WE)
On second thought, this might be too depressing for Thanksgiving. Now's a good time for a food-induced nap.
9. 7:30pm:  Still Standing (LIFE)
Bill and Judy Miller are surprisingly hilarious.
10. 8pm: Charlie Brown Thanksgiving (ABC)
A classic!
11. 9pm: Hannity & Colmes (FNN)
For a fun game, watch until you're ready to strangle Sean Hannity.
12. 9:02pm: Friends (TBS)
It's the one where most of the gang is late to Thanksgiving dinner, so Monica and Chandler lock them out of the apartment.
13. 9:30pm: Most Christmasey Places In America (TRAVEL)
Catch the last half of this show about the nation's most elaborate Christmas decorations—it might inspire you to go all out this year.
14. 10pm: Ace Of Cakes (FOOD)
A reality show about cakes, just in time for a second slice of pumpkin pie.
15. 10:30pm: The Office (NBC)
It's the one with the weight-loss program.
16. 11pm: Charlie Rose (PBS)
I wouldn't want to spend the last hour of Thanksgiving with anyone else.