The 10 Funniest Commercials from Super Bowl XLIII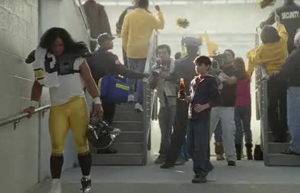 Hundred-yard interception returns and last-minute acrobatic game-winning catches aside, the best part of the Super Bowl is the commercials. We're suckers for animated potatoes, dudes getting hurt, attack ostriches and, especially, Richard Dean Anderson. When it looked like the Steelers were going to blow out the Cardinals, these are what kept us watching until the exciting end. Here are the 10 funniest commercials during Super Bowl XLIII:
10. Pepsi Max: I'm Good
From
The Three Stooges
to the zipper scene in
There's Something About Mary
,
we love us some slapstick comedy
. Like Mike's Hard Lemonade before it, Pepsi Max tries to convince guys that they can be real men and drink a diet cola by playing to their sense of toughness.
9. Hulu: Alec and Huluwood
Alec Baldwin is one of the four main reasons we love
30 Rock
, and he's in glorious character as Hulu owns up to trying to turn your brain to mush.
8. Bud Light: Swedish
The abundance of NBC's house ads probably doesn't bode well for the economy, but even when other companies were footing the bill, the network's stars got a lot of screen time. The future
Tonight Show
host was a good sport in this one.
7. Cheetos: Chester the Cheetah
I'm pretty sure Chester was the only talking animal the whole night, meaning
talking babies
outnumbered him, two to one.
6. Monster: Need a new job?
Monster does a good job at capturing that feeling of utter defeat that only meaningless work can bring.
5. Bridgestone: Taters
Even though the "angry eyes" punchline was stolen straight out of
Toy Story 2
, Bridgestone uses it to capture the tranquility of the open road quite nicely.
4. Doritos: Crystal Ball
Doritos shook things up early with a snowglobe through snack machine, a strange foreshadowing of the hour-long episode of
The Office
that followed the Super Bowl.
3. Pepsi: Pepsuber
The intro song was more stupid-cheesy than funny-cheesy, but then Richard Dean Anderson and Kristen Wiig appeared on screen and Magruber became Pepsuber. Nice.
2. Pedigree: Crazy Pets
Kudos to Pedigree for reminding us that a rhino would make a really bad dog.
1. Coke Zero: Mean Troy
The Super Bowl is usually like
Saturday Night Live
—nothing funny in the second half. But Coke Zero pulled out a remake of the classic
Mean Joe Greene ad
complete with a spin on the tossing of the shirt. And like the Steelers, Coke had a last-minute comeback against Pepsi to win the Super Bowl ad competition.
Others Tagged With