Lions and Tigers and Bears, Beware: Nine New Band-Name Trends on the Rise at SXSW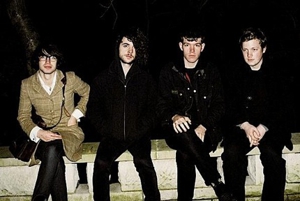 [Above: Ox.Eagle.Lion.Man., the past and future of trendy band names.]

Around this time last year, Paste's marketing director (now-emeritus) Caren Kelleher compiled a pretty freakishly extensive blog post detailing statistical trends among bands playing at the 2008 SXSW Music Conference. It seemed, then, that animal band names were actually on the wane, but judging from this year's schedule, they've definitely made a comeback; there are more than 60 animal bands slated to play the 2009 conference (including associate editor Kate Kiefer's favorite, Kittens Ablaze).

But still, what's next? At one point, it looked like crystal bands were the next big thing, but that trend seems to have spluttered out, so I took a closer list at the schedule to see what other trends were on the rise. Caren has a way with spreadsheets that I could never dream of matching, so here's a way less scientific-looking breakdown of some of the post popular band-name trends among artists playing this year's SXSW. Who's the biggest threat? Well, after centuries of struggling to overcome social, political, intellectual
, and perhaps most of all,
musical
, marginalization, it looks like men are finally getting their due. Congrats!
9. Negative Bands (6)
No Comply
Oh No Not Stereo
No Kids
No Age
NeverShoutNever!
Don't Tell Sophie
8. Scholarly Bands (7)
Black Math Horsemen
I Love Math
The Beat Poets
Poetic Pilgrimage
Poet In Process
The D'Urbervilles
Hesta Prynn
7. Ladylike Bands (10)
The Morning After Girls
The Indigo Girls
Parenthetical Girls
Girls in Trouble
Girls
Vivian Girls
U.S. Girls
When Girls Collide
The Girls
Women
6. Exclamatory Bands (11)
Lover!
Holy Ghost!
Right Away, Great Captain!
Moth!Fight!
Futurecop!
NeverShoutNever!
Cause Co-Motion!
Come On Gang!
3oh!3
Bang! Bang! Eche!
Gravy Train!!!
5. Bodily Bands (14)
Bear Hands
Cut Off Your Hands
Wovenhand
Les Handclaps
The Phenomenal Handclap Band
Woodhands
The Shaky Hands
Foot Patrol
These Arms Are Snakes
Strong Arm Steady
The Golden Arm Trio
Arms and Sleepers
Hot Leg
Arms and Legs
4. Youthful Bands (15)
Kid Congo Powers
Cold War Kids
CASIOKIDS
Kid Cudi
Kid Sister
The Magic Kids
Kidz In The Hall
No Kids
Amazing Baby
Babydick
Baby Robots
Wildchild
Scorpion Child
The Little Ones
Littl'ans
3. Blingy Bands (18)
The Golden Filter
The Golden Arm Trio
The Golden Dogs
Golden Bear
Golden Boots
Golden Hornet Project
Golden Boys
Fool's Gold
Solid Gold
Pro Bro Gold
Black Gold
Sugar & Gold
Black Diamond Bay
Lady Dottie & the Diamonds
Black Diamond Heavies
Nite Jewel
Indian Jewelry
Ruby Coast
2. Religious Bands (21)
All The Saints
Devil in the Woods
Kevin Devine & the Goddamn Band
Zola Jesus
The Devil Makes Three
The Devil Wears Prada
St. Vincent
My Jerusalem
Whitechapel
Magic Christian
Choir of Young Believers
Holy Ghost!
The Unholy Two
The Wailing Wall
Hymns
Priestess
Holy Hail
The Black Angels
Valient Thorr
Zion I
Battle Hymns
1. Dude-y Bands (23)
Oak Ridge Boys
Akina Adderley & the Vintage Playboys
Thrift Store Cowboys
Boy Crisis
Chavy Boys
Diesel Boy
SICKBOY
Dave Gonzales & the Stone River Boys
The Strange Boys
Golden Boys
The Lee Boys
Tahiti Boy and the Palmtree Family
Eli Paperboy Reed & The True Loves
The Wong Boys
Boys Noize
Gentleman Reg
Legendary Tiger Man
The Third Man
Ox.Eagle.Lion.Man.
Black Math Horseman
The Tallest Man On Earth
Early Man
Dirty Old Men
Others Tagged With