Raposauria, He: First-Listen Thoughts on DOOM's Born Like This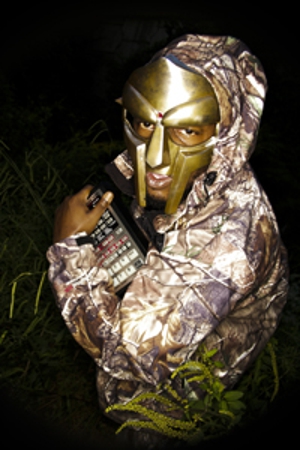 A couple weeks back, word came down that that tricky masked villain would be dropping a new album. MF Doom, now unfortunately rechristened DOOM ("All big letters, but it isn't no acronym," as he says on "Ballskin."), will release Born Like This on March 23 via Lex Records. For a guy with so much allegedly on his plate (a new Madvillain record? a collaboration album with Ghostface? other various stuff?), it's nice to see him get around to releasing something.We'll have a proper review of the full album, but in the meantime, take a stroll with me through the Born Like This five-song promo sampler:

1. "Ballskin"
Album placement: Track 3

The beat: A bass-carried, piano embellished, funky track from Seattle's Jake One (50 Cent, Freeway, De La Soul). Nothing fancy, but it sure is nice. To be fair, the track barely cracks the minute-and-a-half mark, so it's not like the beat has a chance to really go anywhere.

Best line: "Waste of space / face hastily / bow out gracefully." -OR- "Don't believe the hyperbo-lee / it's like a murder spree / get sniped verbally."

2. "Lightworks"
Album placement:
Track 7
The beat:
Originally
released
as an instrumental-only track on the late J Dilla's
Donuts
, this spacey beat comes complete with sirens, an awesome whispery whistle part and a female-sang, retro hook. It's very busy, but works.
Best line:
"Munchkins gets punched in like vocal rhyme."
3. "Angelz"
Album placement:
Track 10
The beat:
Strings and horns give this track a detective-show feel, which is appropriate, given the lyrical content. It's a one-trick pony on repeat, but the trick is done well.
Best line:
Nothing particularly mind-blowing, actually.
Extra credit:
Ghostface Killah is featured on this track under the Tony Starks moniker, dropping Hardy Boys references and serving as the primary narrator of the Charlie's Angels-esque tale. Raekwon and Paloma Faith also appear. Despite the guests, this is the sampler's weakest track by far. Decent enough narrative, but no amazing lines, and it goes on far too long. In fact, the last 45 seconds or so is mostly just Ghostface talking about how he wants to have sex with the ladies from the song.
4. "Cellz"
Album placement:
Track 11
The beat:
Led off by some terrifying, apocalyptic and totally badass spoken word ("Born like this / into this / into hospitals which are so expensive it's cheaper to die / into lawyers that charge so much it's cheaper to plead guilty") over ominous strings and explosive sounds, the track turns into a pretty typical, stuttering DOOM beat, not that there's anything wrong with that.
Best line:
There are several on this monstrous track, but this one is perhaps the greatest: "A bad samaritan averagin' above average men / rancid rants havin' ramblin' savages scavengin' / for scraps / perhaps roadkill, if that." Phew! Say
that
five times fast.
Extra credit:
That raving looney detailing a terrible, awful, no-good, very-bad reality at the beginning of the track? That's Charles Bukowski reading his poem "
Dinosauria, We
." Fun.
5. "That's That"
Album placement:
Track 16
The beat:
An exuberant, string-led romp through the flowers. Fun to listen to, and, from the sound of DOOM's flow, fun to rap over.
Best line:
"Give an MC a rectal hysterectomy."
Extra credit:
Closing out the barely-two-minute-long track, DOOM playfully sings in a seeming nod to his recent absence, "Can it be I stayed away too long? Did you miss these rhymes when I was gone?"
Others Tagged With