Seven Reasons to Start Watching Kings Immediately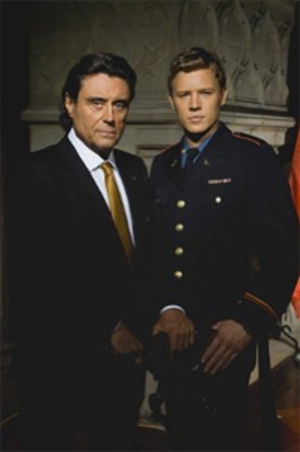 And when we say "immediately," we don't mean next weekend. We don't mean that you'll tune into NBC at 8 p.m. (Eastern) on Sunday night and maybe check out this new show that you read about on that one website. We mean right now—call in sick, cancel your date, hide under your desk, flush later, stop whatever you're doing and click here to see the first two episodes of a television drama that will blow your little minds.
1. The plot. A country a lot like America (but called Gilboah) is ruled by a king instead of a president. The king's name is Silas. He's portrayed by an actor named Ian McShane, who appeared on Deadwood, a program you may have heard of. King Silas lives in a city a lot like New York (but called Shiloh). Kings is—so far, anyway—the story of his rule. The story has approximately 900 characters and 10,000 subplots.
2. The characters. With his slicked-back hair and menacing countenance, Silas is the regal equivalent of Gordon Gekko. We know instinctively to adore his daughter, the princess Michelle, because she looks like a cross between Natalie Portman and Zooey Deschanel. We want her to marry war hero David—who totally blew up a tank known as Goliath!—and see them rule together after Silas' inevitable fall, but we're worried that callow prince Jack will one day take over the kingdom, which would be less than ideal, even though we do kinda empathize with his barely repressed royal angst.
3. The writing. It's like early West Wing, before they kidnapped Bartlet's daughter and the show jumped the shark. Maybe it's even better than West Wing. As we sat gobsmacked watching the series premiere, someone in the room compared the dialogue to Shakespeare. Is Shakespeare better than Aaron Sorkin?
4. The occasional flashes of magical realism. Without spoiling anything, let us just advise you to watch for the butterflies at the end of episode one.
5. The surprising plausibility despite the occasional flashes of magical realism. You might be surprised at just how eerily similar Gilboah's monarchy is to our democracy. There are evil corporate interests. There's lots of war. It's sometimes hard to tell whether the people in power are doing the right thing. And the subjects seem to live in an emotional state somewhere between utter elation and cowering fear. Yep, that sounds like us.
6. Gath. The enemy land is called Gath. Try saying it with us: Gath. Gath—it just sounds like an evil empire.
7. The pacing. Kings has the artistic class of an ensemble film like Magnolia, but it also has the narrative pull of a great trashy soap opera. The two-hour series premiere—only 83 minutes if you watch online—pretty much blew us back in our chairs. The closing moments of the one-hour follow-up left us whimpering, hoping for more, begging King Silas not to let it end.
Others Tagged With