18 Holes of Caddyshack: The Greatest Lines from the Greatest Golf Movie Ever Made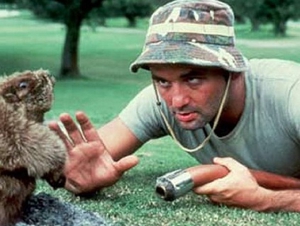 Page 1 of 2
The last few weeks have been big for golf fans. First, an exciting finish to the Masters Tournament, in which Argentinian Angel Cabrera bested Kenny Perry and Chad Campbell in a three-way playoff. Then, last Friday, actor/comedian Bill Murray—revered by golf afficionados for his hilarious performance in the film Caddyshack—hooked a shot at a golf tournament in Florida and nearly knocked spectator Gayle DiMaggio unconscious. She made it through with a few stitches, and was excited to meet Murray, who gets major points for personally coming to check on her and then proceeding to bust a charming improv-comedy routine on the spot.
In honor of Cabrera, Murray and this wild month in golf, today we offer 18 Holes of Caddyshack: The Greatest Lines from the Greatest Golf Movie Ever Made...
THE FRONT NINE
1. Carl Spackler (Bill Murray) - "Cinderella story. Outta nowhere. A former greenskeeper, now, about to become the Masters champion. It looks like a mirac... It's in the hole! It's in the hole! It's in the hole!"
2. Ty Webb (Chevy Chase) - "Don't sell yourself short Judge, you're a tremendous slouch."
3. Carl Spackler - "I smell varmint poontang. And the only good varmint poontang is dead varmint poontang, I think."
4. Al Czervik (Rodney Dangerfield) - "You buy a hat like this, I bet you get a free bowl of soup. Oh, it looks good on you though."
5. Ty Webb - There's a force in the universe that makes things happen. And all you have to do is get in touch with it, stop thinking, let things happen, and be the ball.
6. Carl Spackler - "Correct me if I'm wrong Sandy, but if I kill all the golfers, they're gonna lock me up and throw away the key."
7. Judge Smails (Ted Knight) - "Danny, I'm having a party this weekend. How would you like to come over and mow my lawn?"
8. Al Czervik - "Oh, this your wife, huh? A lovely lady. Hey baby, you must've been something before electricity."
9. Carl Spackler - "I have to laugh, because I've outfinessed my
self
. My foe, my enemy, is an animal. And in order to conquer an animal, I have to think like an animal, and—whenever possible—to look like one. I've gotta get inside this guy's pelt and crawl around for a few days. Who's the gopher's ally? His friends. The harmless squirrel and the friendly rabbit."
Others Tagged With