Every Day Should Be Record Store Day: 10 Reasons to Visit Your Local Indie Music Shop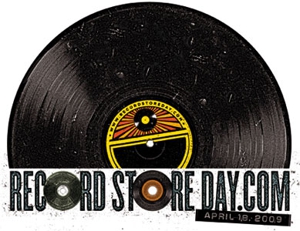 Today marks the second-annual celebration of Record Store Day, a holiday that, around these parts, we think deserves as much recognition as any of those other days that Hallmark exploits to try and sell you stuff. We've said it before, but it bears repeating: The record store is a good thing. Visit a local shop near you today and spend some money. Here are but a few reasons why:

1. Tom Waits - Live from the Glitter and Doom Tour 7"
We'll take new material from Waits any way we can get it, but this limited-edition 7" single, with three live tracks (two recorded in Atlanta, one in Scotland) is particularly tantalizing.

2. Free beer!
Many stores will be handing out deliciously-without-price libations to the over-21 set. Why not take advantage? Have a couple and let loose those inhibitions. It'll make purchasing tons of awesome tunes just a little easier.

3. Sonic Youth/Jay Reatard split 7"
What's the only thing better than Sonic Youth or Jay Reatard? Sonic Youth and Jay Reatard! On this Matador Records release, each artist offers up a demo version of a song to be featured on its upcoming Matador full-length release (SY's in June, Reatard's in August).

4. Free performances!
Wilco is playing at Disc Exchange in Knoxville, Tenn. The Black Lips are playing at a pair of stores in Arizona. Grizzly Bear is doing a DJ set at New York's Other Music. Click here to find out who's playing in your neck of the woods.

5. Jesus Lizard - Inch (7" box set)
If you don't like this, you don't like rock 'n' roll. It's as simple as that.

6. Because Patton Oswalt says so:
"The idea of, 'The journey is the destination' is put into action by browsing in an indie record store. Besides, a human being is a much better guide than a 'More Like This' link on the internet."

But hey, you don't have to take his word for it. You can take the words of Wayne Coyne, Paul McCartney, Jack White, Nick Hornby, Neko Case, Andrew WK, Charlie Louvin and countless others here.

7. Iron and Wine - Live at Norfolk 6/20/2005
Record live, in Norfolk, Va., on June 20, of the year 2005, by the band Iron and Wine, this CD is limited to 5,000 copies. You can only get one of these copies from a participating Record Store Day shop.

8. Free other stuff!
Record Store Day loves you so much that all you have to do is show up to get free things. In addition to drinks and live music, there will be all sorts of giveaways. It just keeps getting better, doesn't it?

9. The Dead Weather - "Hang You From the Heavens" 7"
That Jack White fella has another band, this time with members of The Kills, The Raconteurs and Queens of the Stone Age. This is that band's first official release, intended, perhaps, to tide folks over until the full-length release in June.

10. Because you don't want the world to be ruled by Best Buy, McDonald's and Wal-Mart someday, do you?
Of course you don't.

Extra credit: In honor of Record Store Day, Paste has dusted off the Pay What You Want subscription deal. Act fast, though: The offer ends at midnight tonight.