Extra Innings: 10 Films Proving Baseball is, in Fact, Life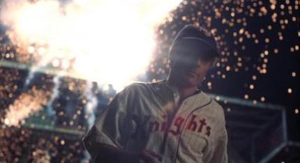 Although consistently warm weather doesn't hit Cleveland until about mid-June, Indians Summer began for me last Monday when the Rangers put a hit (OK, a lot of hits) on my team in a 9-1 blowout. Ouch. But even though they lost the next four games, I have to keep telling myself it's a long season, comprised of 162 games averaging nearly three hours a pop taking place in the months where everyone is out doing something—enjoying life to the fullest. Yes, baseball is more than just another sport. It's memories, nostalgia, friends, family, innocence, romance, scorching summer days, hometown pride, cookouts, loud music, solace, excitement: Baseball is life. And here are 10 films that prove it.

1. The Natural (1984)
Not just the greatest baseball movie of all time, but possibly one of the greatest sports films of all time. Roy Hobbs (Robert Redford) is a promising, young prospect with a bright career ahead of him in the 1930s when a troubled femme fatale guns him down at age 19. Sixteen years after the fact, he isn't ready to let go of his love of the game, getting signed to a fictional scrub team called the New York Knights. It's more than a story about baseball; it's about a middle-aged man living his dream despite the naysayers. It's a tale about a guy distracted by the glitzy glamorous babes all famous people gravitate towards, only to discover a happier life with his high-school sweetheart (Glenn Close). But when Hobbs hits the big two home runs—the one that breaks the clock, and the showstopper at the end that kills the lights, literally—and Randy Newman's beautiful score triumphantly takes over, you know this is the ultimate take on the summer classic.

2. The Sandlot (1993)
No other film in the history of cinema captures childhood summer nostalgia like this classic about a group of boys in the early '60s who play baseball (nearly) every day at a local sandlot. When they aren't playing, the thing they "tolerated best" is going to the pool, where on one day, the geeky Squints plays out every boy's dream and lays a big one on the lifeguard, Wendy Peffercorn. Ah, one of the best and most appropriate uses of the Drifters' "This Magic Moment." And then, there's "the pickle"—where Smalls naively borrows and loses his step dad's Babe Ruth autographed ball, never hearing of the "lady" who signed it. Who says childhood is simple?
3. The Bad News Bears (1976)
Vulgar, politically incorrect and heartfelt to the extreme, this baseball flick about a youth baseball team of misfits is a metaphor for that shocking reality check we all had as kids. Maybe all grown ups aren't role models. But through all the winning and losing—mostly losing in the beginning—both the bad-example, beer-guzzling coach (Walter Matthau) and his bad-news Bears find redemption through each other. Is it a "kids" movie? No, it's an everyone movie.

4. Major League (and Major League II) (1989, 1994)
Many can laugh at this crazy cast of oddballs, but only a select few can look back and laugh. Because for those in Cleveland and northeastern Ohio, it's all too real. Not until the second film's release did the Cleveland Indians finally break out of their 30-year slump. Some will say it was the new stadium. Others, the even more superstitious ones (most baseball fans), may point to the dominance and swagger of Rick "Wild Thing" Vaughn, as portrayed by Charlie Sheen. (Fun fact: Sheen was actually a star pitcher in high school.) Whatever the case, the really bad times are in the past, and let's hope, for the sake of another one of these movies popping up, they stay there.

5. Pride of the Yankees (1942)
Gary Cooper stars as the legendary Lou Gehrig, whose stunning career was ultimately cut short by the nerve disease that would carry his name. But it's impossible to view this film and this man's life without feeling a bit optimistic, especially when Cooper recreates Gehrig's humble farewell speech. When he utters that famous, powerful line to a packed Yankee Stadium, "Today, I consider myself the luckiest man on the face of the earth," you can't help but be overwhelmed by goosebumps. It's one of the saddest happy endings ever.

6. A League of Their Own (1992)
Although a film about women's baseball during WWII, the real star of the feature is not one of the girls; it's Tom Hanks. His portrayal of a fallen baseball great trying to regain respect (and kick the bottle) is one of the actor's finer moments. Who can ever get tired of that famous quip, "There's no crying in baseball!" a staple that baseball commentators throw out like it's their fastball? It's still a great line mulled over to this day. That's when you know a movie has weight. Geena Davis and Lori Petty's sibling relationship is swell, too.
8. It Happens Every Spring (1949)
Before the awesomely unfair advantage in baseball films was made popular by the likes of Rookie of the Year and Angels in the Outfield (both the 1951 original and the 1994 remake), there was this little comedy starring Ray Milland as a struggling professor who discovers a formula that repels wood. He needs a way to earn money so he can marry his sweetheart. So, what does he do next? What any normal person would—become a major league pitcher. Rub some of that crazy repellent on the ball, and the only person laying a bat on your game is the bookie in the alley you forgot to pay off.

9. Rookie of the Year (1993)
Of course, one of these kiddie head-scratchers would make the cut. But like It Happens Every Spring, there's a nice fantasy element involving the lovable loser who catches a break. In this case, it's a kid who breaks his arm. When the cast comes off, his tendons have tightened so that he can throw more than 100 mph. He becomes a pitcher for the Chicago Cubs, and while fame and fortune are great, there comes the time when the hero has to ask himself what's more important, the good life or his friends?

10. The Great Escape (1963)
No, it's not a "baseball" story, which is why it's a good extra-innings bonus here at the end. But perhaps more than some of the selections on this list, it proves why baseball is so much more than a sport. When American POW Hilts (Steve McQueen) is thrown into the solitary cell known as the cooler near the beginning of the feature, he brings with him his mitt and a ball he repeatedly throws against the floor and wall of the cement prison. As he's being marched to that same place at the end of the movie, a fellow inmate tosses him the ball and glove on cue. A few moments later, we hear that same loud ricocheting of the baseball. He wouldn't have been able to find that same comfort and peace of mind with a football.