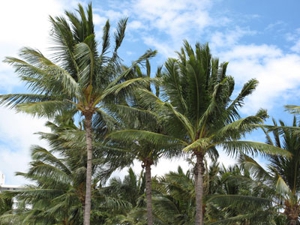 Or: How I Learned to Stop Worrying and Stray Off the Beaten Path in Honolulu

A couple weeks back, my lady and I visited the island of Oahu in Hawaii. With the help of Google Maps, Yelp and a friend we were staying with, we discovered some pretty awesome stuff in and around Honolulu. Here are five things to keep in mind if you make the trip:

Maui Brewing Co. > Kona Brewing Co.
Now, don't get me wrong. I'm not one to hate on microbreweries for the sake of hating. Any time someone decides to provide a local alternative to Budweiser/Coors/etc., I will cheer them on. And to be fair, Kona's Koko Marina Pub offers some solid brews and food. It's just that I arrived in Hawaii knowing that I wanted to experience more Kona (a brewery that is distributed here in Atlanta) having never heard of Maui Brewing Co. I tried three of Maui's beers while on the island: the Bikini Blonde Lager, the Coconut Porter and my favorite, pictured above, the Big Swell IPA. Maui combines big, memorable flavor with attitude and wit, just like a good microbrewery should. And much like one of my favorite mainland breweries, Maui puts its delicious product in cans. The only places you can get Maui brews at the moment is in Hawaii, Japan or California, but that will hopefully change soon. Click here to help get them in your town.


Buy Aloha shirts at Goodwill.
Aloha shirts are a strange creation that unites both the cheesiest of tourists and the most established of locals. While dining at one of the nicest restaurants I've experienced in my life, I noticed that Aloha shirts outnumbered typical button-downs almost 3-to-1. These things are like the plague. A glorious, flowery plague that makes me giggle while I experience it. That being said, if you find yourself in the kind of mindset that requires an Aloha shirt, do yourself a favor and avoid the tourist trap shops charging $35 for them. Seek out a Goodwill. I got two incredible shirts for less than $20 total.


Make the effort to find La Mariana Sailing Club.
One of the last real tiki bars in Hawaii, La Mariana Sailing Club is tucked away in an industrial area near the airport in Honolulu, and contains the kind of scene you simply can't make up. A parrot named Corky greets you upon entry, a batshit insane bartender with a handlebar mustache ignores half the things you request, gaudy lights, shell-adorned fixtures and blowfish lamps hang everywhere, the mai tais are delicious, and a charming, blind piano player bangs out the hits. Don't miss this place; it's unlike anywhere else.


Lanikai > Waikiki
Waikiki has tons of people and rocky sand. Lanikai is desolate and the sand is gentle and soft like a baby. The choice is simple.


Eat brunch at Bogart's.
Yes, you'll probably have to wait in line. After waiting in line, you might have to also wait for a seat. Then, once you sit down, it'll probably still be a while before you get your food. But it's worth it. Try the waffles (with strawberries) or the benedict (with anything) or the bagel sandwich (with the works) or the chicken plate (with veggies). Yum. Inexplicably, despite taking photos of everything else, we didn't get one at Bogart's. However, the shot above is the Acai plate at Health Bar next door. Bonus points for Lost fans: Health Bar is owned by the man who also owns Vincent, the dog from the show. Photos of him (the dog) surfing are all over the place and cast members eat there regularly.

Others Tagged With