Perez Hilton's Three Musical Acts to Watch in 2009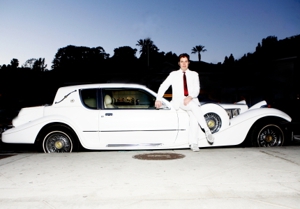 Gossip-site honcho Perez Hilton is best known for slamming "celebutards" like Mushy Fartone and Slutty Cyrus, drawing coke noses onto photos of Amy Winehouse with MS Paint and coining new phrases that his fans promptly incorporate into their vocabulary. Viva La Drunkst!, anyone?

But besides satiating his fans' hunger for gossip, Hilton's taste in music has become surprisingly influential. He has helped jump-start the careers of many of his favorite musicians by raving about them on his blog. Hilton has written about myriad artists on
Paste'
s radar such as
Adele
,
The Bird & The Bee
,
The Ting Tings
,
Ida Maria
and
Greg Laswell
.
And while Hilton said he is passionate about music, he's so busy working on his site that he doesn't have much time to go to live shows to discover new music. So instead, he trusts the opinions of his fans. "I always discover my music through my readers," Hilton told
Paste
. "I don't read any of the music magazines. I don't read
Paste,
I don't read
Spin
, I don't read
Rolling Stone
, I don't read
Vibe
. I don't read any magazines, actually."
Hilton's latest obsessions are Little Boots, Julian Perretta and FrankMusik. "I instantly loved each one of them," Hilton said. "To me, they accomplish what good music should, which is grab your ear instantly and keep your attention."

Little Boots
"I love Little Boots because I love female vocalists, I love pop music and I love good music. And she's doing all of the above."
Julian Perretta
"Julian, to me, is a throwback to a more '70s sound. It sounds very organic, live instrumentations, soulful, maybe even a little Hall and Oates-ish. Just amazing, amazing. I mentioned Julian for the first time a couple weeks ago, and people went bananas. It was the most overwhelming, almost unanimously, positive response than I've had in a really long time."
FrankMusik
"FrankMusik has been working with Stuart Price, and Stuart produced what I think is Madonna's best album in the last 15 years,
Confessions on a Dance Floor
. The two of them work together really great. I love all their songs. It's kind of a throwback to '90s dance music, but it still sounds very contemporary at the same time. It's smart dance music. It's good, too. I hate repeating myself, but it is. I love the output that they've had thus far, and it's all quality."
Others Tagged With