Ten Things You Should Know Before Becoming a Drug Dealer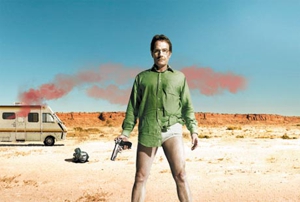 Breaking Bad is the best thing that's happened to AMC since, um, Mad Men. Not only is the plotline fascinating (high-school chemistry teacher finds out he has lung cancer and starts cooking meth to pay medical bills for himself and baby on the way), but also it's full of great tips and warnings for Future Drug Dealers. Thinking of going into the business? Take heed:
1. Don't, under any circumstances, pour hydrofluoric acid into a bathtub—especially if said bathtub is on the second floor.
2. Don't lock someone named Krazy 8 in a basement.
3. If you're kidnapped by a psychopath killer and you want to poison him, make sure he likes whatever you're trying to feed him.
4. Undercover cops are legally allowed to say they're not cops in order to get you to sell them drugs.
5. If your guy gets pinched, don't try to knock off your lawyer. Just kill your guy.
6. Don't marry a DEA agent's sister-in-law.
7. If you cook meth, don't get a customized license plate that says CAP'N COOK. It's too conspicuous.
8. The A/C vent in your infant's nursery is a discreet, out-of-the-way hiding place for guns, drugs and money.
9. Totally out of options? Just take off all your clothes, walk into a grocery store, and act like you don't remember anything. 
10. And of course, always cook in your underwear.
Others Tagged With