10 Funniest Twitterers: Comedians Worth Following on Twitter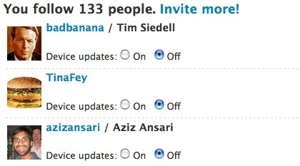 There's an art to being interesting in 140 characters. Informational is easy. Poignancy is near impossible. A couple of weeks ago, I published a list of 10 Musicians Worth Following on Twitter, and you turned me on to the Tweets of Fleet Foxes' @rpecknold, who recently gave us five consecutive <140-character musings on the upcoming lunar eclipse in Southeast Asia. But the best Twitterers are funny, and the funniest, naturally, are comedians. So for our second guide to the Twitter-verse, we look at The 10 Funniest Twitterers: Comedians Worth Following on Twitter. (Oh and it looks like Zach Galifianakis just joined the party a few days ago.) Missing are several of the most popular (sorry, Jimmy Fallon, but you're not that engaging), funniest in other formats (sorry, John Cleese, but I don't know what the hell you're talking about most of the time) and fakes (I was initially fooled by fake Tina Fey and fake Stephen Colbert). These 10 simply make me laugh:

10. Aziz Ansari - azizansari
Best recent tweet: Pickup line you can use tonight: "Excuse me, did anyone ever tell you you look like an African American version of Jennifer Aniston?"
Runner-up: DAMNIT. NBC has also passed on my made for TV Bobby Jindal biopic. Apparently, I "don't look like Bobby Jindal and no one cares about him."

9. Tim Siedell - badbanana
Best recent tweet: A man ate broccoli at T.G.I.Friday's. Yes, he also found a snake head, but that story was plenty gross enough already.
Runner-up: I'm hoping for a Paul Simon kind of day. Short and pleasant enough. None of that Garfunkel crap.

8. Rob Huebel - robhuebel
Best recent tweet: Not to sound racist but why can't older Korean ladies skateboard better? It's not that hard.
Runner-up: I will fight any child today under the age of 14. You name the place. No parents. No nut-shots.

7. Paul Scheer - paulscheer
Best recent tweet: Just found out Dr. Dre isn't a real doctor, now I understand why he botched my hernia operation.
Runner-up: From Variety: JJ Abrams to reboot the McDonald's franchise, We'll find out how Ronald met Mayor McCheese and where the Fry Guys come from.

6. John Hodgman - hodgman
Best recent tweet: On plane. Sspotted second family with masks. They are all grouped around my seat. || Maybe they would be less concerned if I hadn't vomited all over myself. Sorry worrywarts. I'm not changing my airplane rituals for you!
Runner-up: You win this time. But I promise you: this shall be your PENULTIMATE WIN. so enjoy it while it lasts. And the next one.

5. Eugene Mirman - EugeneMirman
Best recent tweet: Mother's Day is a good day to thank mothers, but it's also a great time to party, because most mothers are distracted. I have unused charact
Runner-up: I wonder if there are any vintage shops near where JFK was shot, that way I could see history and get a cool bag.

4. Rob Corddry - robcorddry
Best recent tweet: I just took the "Who are You on Lost" quiz. I'm the odd looking extra that looked right into the camera two weeks ago.
Runner-up: We all have at least one friend who we suspect may be a serial killer, right? Mine is @robhuebel #followfriday

3. Jim Gaffigan - jimgaffigan
Best recent tweet: Ever seen someone on a unicycle and not wanted to push them over?
Runner-up: What if we found out you got swine flu from NOT eating bacon?

2. Michael Ian Black - michaelianblack
Best recent tweet: Saw a NY license plate with the following number: "1." I pulled alongside and was disappointed the driver was neither Elvis nor Jesus.
Runner-up: All these women are writing to me bitching about "making ONE baby." You never hear men complain about making HUNDREDS OF MILLIONS of sperm.

1. Stephen Colbert - StephenAtHome
Best recent tweet: personally i like the discover card rewards program. if you can find a business that takes discover card, you get a free airplane
Runner-up: hope god watched the show. i prayed pretty awesome tonight

Let me know who else is worth following in the comments. I'm on Twitter @ joshjackson.
Others Tagged With