5 Best Star Trek Personalities to Follow on Twitter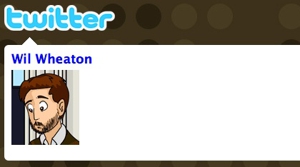 We've covered the best musicians and comedians to follow on Twitter. The next logical step is Star Trek personalities, obviously. I mean, they all seem to be boldly going where Ashton Kutcher has gone before. I haven't seen the new movie yet, but I can still feel connected to the Federation by reading about Next Gen family reunion dinners, right? Right? Anyway, here are the five best Star Trek personalities to follow on Twitter. Or at least five Star Trek folks who actually Twitter. Sometimes.

5. George Takei (Hikaru Sulu) - georgetakei
Best recent tweet: I thought everyone might enjoy this little funny. http://tiny.cc/GeorgeTakei Have a great weekend!
Runner-up: The moment many have waited for is finally here; the opening of the new Star Trek movie. I hope everyone will enjoy.

Sweet and earnest, but the YouTube video he links to stars the voices of Takei, Mark Hamill of Star Wars and Ed Wasser of Babylon 5. Much less awesome than it sounds.

4. Brent Spiner (Data) - BrentSpiner
Best recent tweet: After drifting in space for several hours, regained consciousness in a jail cell in downtown LA. My head still aches. Bullets will do that.
Runner-up: Wonder what's become of Harry and Amber. What a crazy night. The thing I keep remembering most about it? That new Uhura is sizzling hot!

He's got imagination enough to write the next film.

3. J.J. Abrams (director) - JJ_Abrams
Best recent tweet: How intimate can I be when posting about my private life? How often do I make updates......... so confused with this I have to admit.
Runner-up: I totally forgot about Twitter. I know i am not regular on here but really don't have time for computers... errr or anything.

He's posted five times, but has 34,000 followers. When he does start posting, they're ready.

2. Lavar Burton (Geordi La Forge) - levarburton
Best recent tweet: Having dinner with the Next Gen Family. Gates is cooking. Brent, Michael Dorn, Marina & the fabulous John Logan are all in attendance...!
Runner-up: RT @roscopcoletrane: This just in: Levar Burton is not dead!Me: Thank God! I was planning to see the new Star Trek movie tomorrow...!
2nd runner-up: @Lucy_Lawless No... there haven't been any new Reading Rainbow episodes made since then.

Seriously? Xena is asking Geordi about Reading Rainbow?

1. Wil Wheaton (Wesley Crusher) - wilw
Best recent tweet: When Anne noticed that we were both wearing red shirts today, she said, "Good thing we're not going to the same planet." ...I swooned.
Runner-up: Realized I'm in an alternate universe where not only are the Dodgers first in the NL West, they have the best record in baseball.

He's witty and seems like a regular dude, Tweeting a lot about music (Sex Pistols, Clash, Black Flag) and hockey. But apparently there's still a little Wesley Crusher in there.

Let me know what Tweeting Trekkies I'm missing in the comments. I'm on Twitter @ joshjackson.
Others Tagged With