Classic Paste: The Best of Issues 1-10 (2002-2004)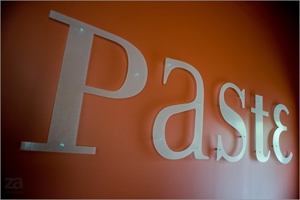 (JUST A FEW MORE REASONS TO HELP SAVE PASTE)
In a little more than two weeks, I'll celebrate my 6th anniversary at this magazine. When I started as Paste's second-ever intern on June 1, 2003, we were still a tiny operation. Only five of us were in the office full-time: publisher Nick Purdy, editor Josh Jackson, assistant editor Jason Killingsworth, myself (who would go on to become associate editor) and my intern cohort, Steven Bevilaqua. Other important folks—like senior/film editor and future Paste president Tim Porter, design director José Reyes, and future associate publisher Joe Kirk—were working part-time, since Paste couldn't yet support a full staff. Back then, we were in our old office on E. Howard Ave in Decatur, Ga., over a frame shop run by a wild-eyed Grateful Dead evangelist named Randy. It was a rickety building, with warped floors that would set your roller chair drifting if you weren't careful.
That first summer I remember it being insanely hot, and the air conditioner was broken for over a month because we couldn't afford to fix it. There were sweat-soaked runs to the post office in 100-degree/100-percent-humidity weather, and afternoons spent stuffing countless envelopes with press packs for Bill Mallonee's
Perfumed Letter—our first national release on the now-defunct Paste Records—to mail out to radio stations.

(For an in-depth look at the early history of

Paste

, click here.)
And then there were the all-night deadlines. My first was actually at the Reyes house (since it was before José had a space in our office). I stayed up for nearly 24 hours straight proofing pages, sipping beers, watching
Lord of the Rings
.
We worked with furious determination, often until sun-up, as if men on a mission, because we were. I think each of us had our own set of reasons, our own rationale, but we shared a common passion for championing all those unsung or forgotten artists we loved, and an insatiable desire to dig beyond the cultural wasteland that had materialized during the boy-band era, all the way down to the shimmering buried treasure that languished beneath: the true art; art that wasn't always easy to look at or listen to; art that made you
think—
that often simultaneously captured the inexplicable horrors, soul-chewing monotony, unbridled joy and fragile beauty of life.
Now, more than half-a-decade later,
Paste
may have a bigger audience, the sounds we cover may have evolved (and our tastes with them), but we still have our eyes trained on the shining beacon of that original idea, which has guided us along the way, through the struggles and the successes: to seek out, explore and celebrate Signs of Life in music, film & culture wherever we can find them.
The following list (which will begin a five-week "Classic Paste" series, posting every Friday) is a testament to this philosophy, in the form of a look back at some of
Paste
's finest moments. Here are some of my favorites from Issues 1-10.
•
Review of Wilco's
Yankee Hotel Foxtrot
By Tim Porter (Issue #1)
By now, you've surely read the stories of this album's long and tortured trek—of band turnovers and how AOL Time Warner ultimately paid for this album twice. You may have downloaded tracks or streamed them from Wilco's site months before its release. You may have even purchased Yankee Hotel Foxtrot, gave it a listen, and filed it in your CD rack, wondering what all the fuss was about. ... (read more)
•

"Prison Radio: Inside Angola's Incarceration Station" by Jenny Lee Rice (Issue #4)
At first glance, it could be the broadcasting booth of a college radio station. A poster advertising a recent film symposium hangs on the wall; people are mopping up after the rain, working on newly acquired equipment, queuing up CDs. The DJ looks through the newspaper and marks the stories he will read on air, most of which regard Louisiana corrections. There are no armed guards, no nametags—nothing to indicate that this is a maximum security prison. Looking around, I can see why inmates would want to work here. For a moment, we could be anywhere else. ...
(read more)
•
"Lucinda Williams: Words Fell" by Josh Jackson (Issue #4)
"Well, I've been through another heartbreak," says a rather cheerful Lucinda Williams over the phone from her new home in Los Angles.
And while it seems that the 49-year old who was recently named "America's Greatest Songwriter" by Time, has experienced more than her allotted portion of emotional damage at the hands of men—all beautifully captured in her admittedly autobiographical canon of songs—she seems genuinely excited about her current lot in life. She's left Nashville and what she calls the "general ambience of middle Tennessee … square … suburban … safe" for a thriving roots music scene in L.A. In a year in which she didn't even release an album, she was nominated for yet another Grammy (for "Lately," her song on Red House Records' 2002 tribute to Greg Brown, Going Driftless). And she's about to releaseWorld without Tears, an album that stretches her enough to creep out from the shadow of 1998's Grammy-award-winning masterpiece Car Wheels on a Gravel Road. ... (read more)
• "Bruce Cockburn: You've Never Seen Everything" by Andy Whitman (Issue #5)
Like the rest of the world, Bruce Cockburn is pensive these days. Confronted with the sight of tanks rolling through the streets of Baghdad, the politically active, spiritually minded veteran of 27 albums offers a typically challenging analysis: "I don't know if I believe in the literal existence of Satan," he offers. "But if he's real, he's got to be laughing his head off." It's the kind of assessment that isn't new for Cockburn, one sure to elicit nods of agreement or howls of outrage, depending on his audience's spiritual and political views. ... (read more)
• "Guided by Voices: The Prolific Lo-Fi Masters Slow Down & Tighten Up" by Philip Christman (Issue #6)
Bob Pollard is the king of funny names. His band, Guided By Voices, is about to release its 14th record, Earthquake Glue (Matador), which features such word-salad titles as "I'll Replace You With Machines," "The Best of Jill Hives" and "A Trophy Mule in Particular." He's also hard at work on Pinball Mars, the next record from his Circus Devils side project, and yet another GBV album—possibly to be titled Unconditional Saviorism, though Pollard is known for not committing himself until the last possible moment. And then there's the new GBV box set, Hardcore UFOs, due out in November, which will give fans access to the high noon of Guided By Voices' critical success—a period when Pollard and then co-writer Tobin Sprout created lo-fi, Cheap-Trick-channeling-the-Monkees-through-an-Edison-wax-cylinder classics like "Kicker of Elves," "My Valuable Hunting Knife" and "Burning Flag Birthday Suit."
"I find that if you come up with an interesting title, you have to write a song for it," he explains, laughing. "A song with a name like 'Kicker of Elves'—how can it not be good? When you see a title like that it makes you want to buy the record." ... (read more)
• "Rufus Wainwright: Living in Daylight" by Tom Lanham (Issue #6)
It was an entrance worthy of Oscar Wilde himself.
Two-and-a-half years ago, at the Los Angeles offices of his label DreamWorks, decadent dandy Rufus Wainwright came slinking in like a fox fresh out of the henhouse. In his chic Kenneth Coles, leather slacks and a rumpled dinner jacket he'd worn the night before, he collapsed into a meeting-room chair, brushed just-washed strands of shoulder-length shag out of his bloodshot eyes and croaked "Coffee!" to the nearest intern. "I need some coffee as soon as possible." The New Yorker had been up all night at the post-Oscars Vanity Fair party, he hastily explained, squinting against the sunlight, and he'd finally crept back to his hotel room around eight a.m. And the list of celebrities with whom he'd hobnobbed was stunning: Sting, Eugene Levy, Joaquin Phoenix, Simon LeBon, Courtney Love, Patty Hearst, John Waters, Catherine O'Hara, and, of course, one of his best friends in the music biz, Melissa Auf Der Mar. He didn't need java, I reckoned—his champagne-induced hangover called for some stiff hair of the dog. ... (read more)
• Review of Lars von Trier's Dogville By Robert Davis (Issue #7)
For the first nine-tenths of Dogville, director Lars von Trier seems to follow the same pattern he's used before: a delicate female is destroyed by an odd society that puts her in a moral quandary. The waif this time is Nicole Kidman, as Grace, and the style this time is a stripped-bare fairy tale. Actors move through a single minimal set that represents an American mining town of an era past, but it seems to have been shot in a warehouse or on a sound stage. Buildings consist of a few key interior props surrounded by chalk outlines in place of walls, but unlike the imaginary sets of such minimally staged film-plays asVanya on 42nd Street, these invisible doors sound like wood when you knock on them, the sky produces real snow, and the chalk drawing of a dog barks. The story is framed by an occasionally sarcastic narrator and peopled by a uniformly good cast. These elements come together to form a movie that is clinically ironic but also unique, inspired and quite sublime. ... (read more)
• "Paul Westerberg: Shaking & Trembling" by John Schact (issue #7)
Paul Westerberg has to remind people he's now been out of The Replacements longer than he was in the band. But it's a measure of the great emotional distance he's traveled since then that the man who used to bite — no, make that maul — the hand that fed him has learned to peacefully coexist with both the past and his chosen career path. So much so, in fact, that this fall may eventually go down as the high point of his career. He released his touching and revealing documentary, Come Feel Me Tremble, as well as two records of all new material — the soundtrack to Tremble, which is full of Replacements-worthy songs, and Dead Man Shake, a low-down, dirty blues record from his mythic, rock-star alter-ego, Grandpaboy. ... (read more)
• Review of Joe Strummer & the Mesaclero's Streetcore By John Shacht (Issue #7)
With the release of the posthumous Streetcore, Joe Strummer fans have another bittersweet reminder of just what was lost last year when the 50-year-old Clash legend died from an undiagnosed congenital heart condition.
As the bull's-eye on stage and off for the incendiary Clash, and then as the helmsman of the up-and-coming Mescaleros, Strummer was an electrifying presence—one of rock's greatest front men. At age 50, he was still the jackhammer-legged, jive-talking street commando and beat prophet of justice whose performances were more exorcism than entertainment. After nearly a decade of relative silence, Strummer was again the leader of a band that mattered. In the midst of recording the group's third record, Streetcore, Strummer and the Mescaleros—Martin Slattery (keys, guitars, sax), Scott Shields (guitar), Simon Stafford (bass) and Luke Bullen (drums)—seemed poised to recruit legions of converts when the singer suddenly passed away. Streetcore may not be the finished product the Mescaleros intended, but the best cuts of Strummer's second go-round reside here. From the reggae-tinged, foot-stomping album opener (and first single), "Coma Girl," to the stark, elegiac beauty of the acoustic covers (Bob Marley's "Redemption Song" and the Bobby Charles classic, "Before I Grow Old," renamed "Silver & Gold" here), Streetcore is—remarkably enough for such an established artist—a document of lost potential. ... (read more)
• Review of Limbeck's Hi, Everything's Great By Jason Killingsworth (Issue #7)
It seduced Kerouac easily enough. All that hot black pavement, stretching out for miles and miles, cooking up all sorts of heady mirages: fame, escape, freedom, possibility. The road. A great way to get the hell out, and eventually carve out a path triumphantly or sheepishly back home. For a number of artists (including members of one of my most-beloved, mid-90s college-rock bands, For Squirrels), the road has occasioned funerals. The road is how your favorite mid-level bands continue to earn a modest living. But, for all its pros and concrete, the road has offered songwriters a valuable gift indeed: the inspirational goldmine of yet another love/hate relationship. ... (read more)
• "Roger Clyne & the Peacemakers: Still Burning a Hole in the Night Sky" by Thom Jurek (Issue #9)
Bob Dylan used to prattle about three chords and the truth, back when it seemed possible to go that route and get your music heard. But that was a few short decades before the music industry he helped support became a shambolic demon interested only in consuming itself—along with the lives and careers of everyone inside its rotting belly—before giving up its last in a long series of greedy moans and collapsing into its own entropic excess and the dust of history. It's not that Dylan's premise was wrong, and it's not that it isn't still happening; it just gets harder to hear under the wing-tip shoes of the accountants and lawyers who, with increasing panic and terror, run what once were record companies.
But rock 'n' roll is still out there, it's just off the death machine's radar.¡Americano!, the fourth album by Roger Clyne and The Peacemakers is proof that the crazy, reckless, restless, swaggering soul of American rock is still burning a hole in the night sky. ... (read more)
• Review of Yasujiro Ozu's Tokyo Story By Robert Davis (Issue #9)
For a long time, Yasujiro Ozu's movies were thought too Japanese to appeal to American moviegoers. The 50 movies he made between 1927 and 1962 have rarely been seen in the U.S. But recently, Ozu's movies about everyday middle class life have begun trickling into your local video store. Despite the wisdom of past film distributors, it's hard to think of a movie more relevant to contemporary American family life than Ozu's wonderful Tokyo Story, recently released on DVD by the Criterion Collection.
Tokyo Story is about an elderly couple who takes a trip from their small town in the country to the big city of Tokyo to visit their grown children. Their kids welcome them, take them sightseeing, shuttle them from one family to another, and, to keep from getting too far behind with their own lives, send them on a weekend getaway to a nearby spa. While it's never mentioned, the distance between the parents and their busy children grows painfully obvious as the days pass. The sight of the old couple sitting on a sea wall—frail and alone, staring at the horizon—is so real it's heartbreaking. Those are your parents sitting there, and mine. ... (read more)
• "The Sublime Comedy of Patty Griffin" by Dave Sims (issue #9)
It's been said that true comedy begins with a funeral and end with a wedding. Given that, most of Patty Griffin's recording career has been a series of comedies. Hating her Nile Rodgers-produced debut, Griffin's label effectively buried it with a refusal to release it. Then came a wedding of sorts, the critically lauded Living With Ghosts, followed by the feisty, career-defining Flaming Red, full of punk and pathos. A sort-of honeymoon for Griffin, Red created palpable anticipation for her follow-up. Unfortunately, Silver Bell also ended up interred in a musical mausoleum, this time by Interscope, the company that acquired Griffin in a corporate reshuffle. It's not as uncommon as you might think: Sheryl Crow, Ryan Adams, Liz Phair and Abra Moore are just a few of the artists that, for a variety of reasons, have had projects shelved.
But the idea of a Patty Griffin record languishing in corporate limbo is particularly frustrating, given her singular vocal and writing talents. Her voice, delicate and sylph-like, then suddenly a gospel holler filling the corners of one's soul, demands great material—it seems an offense against nature to trouble those pipes with pedestrian tunesmithy. Fortunately Griffin has one of the most adroit pens in American songcraft. She's the kind of performer on whom critics pour superlatives, like leis at a Hawaiian airport; the sort of talent that gives other artists moments of awe and self-doubt. ... (read more)
• "I've Got My Bob Dylan Mask On: Experiments in Truth Telling" by David Dark
Within three weeks of President John F. Kennedy's assassination, a slightly intoxicated Bob Dylan received the Tom Paine award at the Civil Liberties Committee's fundraising dinner to commemorate Bill of Rights Day. When invited to speak, he referenced Woody Guthrie (an idol for both Dylan and his well-dressed audience) and dismissed the notion that any person or collective could speak definitively on behalf of other people. "I've never seen one history book that tells how anybody feels," he said. A reasonable enough sentiment for a 22-year-old folk singer, but he then remarked on the confusion and fear of the day, the loneliness and estrangement a man can't help but feel, and the understanding that can't come without empathy—taking it as a given that such empathy was the perceived task of the people in front of him (and probably that of any artist worthy of the title). But he subsequently expressed pity for the most on-his-own-with-no-direction-home figure of the moment, Lee Harvey Oswald. ... (read more)
• Review of Michel Gondry's Eternal Sunshine of the Spotless Mind By Jason Killingsworth (Issue #10)
Common sense dictates that, if your goal is to create a deeply affecting film portrait of latter-day romance, you don't cast Lloyd Christmas as the male lead. And you sure as bloody hell don't tap Charlie Kaufman, the Screenwriter's Guild's mod-classic clown, to collaborate on the script. Don't get me wrong, quixotic genius abounds in Kaufman's tomfoolery. But if his previous scripts (Being John Malkovich, Adaptation, etc.) had a fault, it was that they spent so much time winking and flaunting their own damnable cleverness that the characters no longer existed to show us our faltering humanity but simply to provide an outlet for Kaufman's incessant cheek-tonguing. So you can imagine my utter stupefaction when, approximately halfway through his newest project, I detect an honest-to-god lump swelling uncomfortably. Like a malignant tumor. At the base of my throat. ... (read more)
• "Van Hunt: Lost Soul" by Stephanie Ramage (Issue #10)
Strolling into Six Feet Under, a restaurant on Atlanta's East Side, Van Hunt looks like a jive-era ghost summoned from the cemetery across the street.
He's Fat Albert's lean and sharp-eyed Rudy, bedecked in a bright green button-down over a logo T-shirt, skintight black-and-white striped slacks and a brown slouch cap. At 27, he has an adolescent's buttery skin and the wary eyes of a musician too savvy to brag about his record deal. For now, he's touring; proselytizing his sultry blend of Isley Brothers vocals and Sly Stone grooves.
"I just call it classic American music," he says, raising his eyebrows and leaning toward the tape recorder so the sparse tufts of his goatish beard brush the mic: "CLASSIC AMERICAN MUSIC."
Capitol Records calls it "postmodern soul." ... (read more)