Five Teen Movies That Should Be Musicals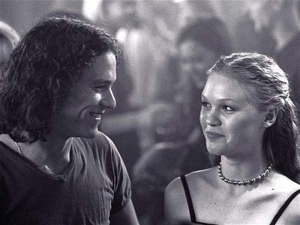 With the news that Heathers is about to adapted to a musical, that American Psycho is heading to Broadway, and even Green Day getting the musical treatment for their American Idiot album, it seems that audiences are craving more music in their lives from the characters they already love. As many cringe with the thought of their favorite childhood characters dancing across a stage, it is hard not to wonder about the other teen movies that should get the musical treatment and hope for the best. Here are five teen movies (among the many) that should be musicals:

1.
10 Things I Hate About You
Ah, Heath Ledger. We do miss him. But can you imagine his classic dance with the microphone across the bleachers singing "Can't Take My Eyes Off You" with the marching band in the background on a stage? Priceless. As
ABC Family
gets ready to premiere its version of the movie on July 7, this teen classic seems to be one step closer to the musical treatment.
2. Clueless
With
rumors
of a sequel to the thirteen-year-old hit, it is hard to not reminisce about Alicia Silverstone's preppy wardrobe and the '90s lingo of this cult hit. The makeover of the once-chubby Brittany Murphy and the fights between Cher and her stepbrother are more than enough musical material.
Clueless
could be wonderfully choreographed into a hilarious satire about the decade we left behind.
3. Mean Girls
While
Mean Girls
might already be
on its way
to becoming a Broadway musical helmed by funny lady Tina Fey, it is hard not to think about the jungle scene in the cafeteria as Cady attacks Regina across the lunch table or the jingle bell rock choreography being performed on stage. The Plastics should be coming to a Broadway theater as soon as Fey finds time to write it.
5. The Breakfast Club
"Eat... my... shorts." Judd Nelson as rebellious, misunderstood Bender was the role model for high school bad boys everywhere. To have him and those four other angsty youths stuck in detention and breaking out into song to release their anger against Richard Vernon would be awesome. Check out a clip from the movie
here
and reminisce on those days of after-school detention.
What teen movies would you like to see given the musical treatment?
Others Tagged With