10 Magazines to Follow on Twitter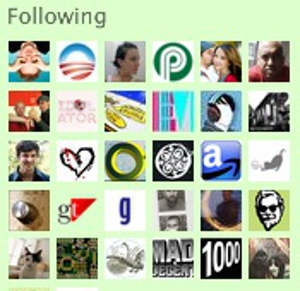 In my continuing weekly quest to discover the masters of brevity—so that my constant poring over a Twitter feed is not a complete waste of otherwise valuable time which could be used reading FailBlog (or, you know, working)—here's a look at some of my favorite magazines. Yesterday, Wired executive editor Thomas Goetz established a #magazinemonday hash-tag for Twitter, where users gave shout-outs to some of their favorite 'zines. Hopefully, you already follow @PasteMagazine, but the following list shows how other magazines condense their gorgeous printed brands into 140-digital-character bursts. (See also, 10 Musicians, 10 Comedians, Five Trekkies and 12 Music Bloggers Worth Following on Twitter.)

In no particular order, here are my recommendations for 10 Magazines to Follow on Twitter:

1. Wired (@wired)
A paean to human achievement, especially when that achievement involves building a $10,000, fully functional R2-D2.
Best recent Tweet: Beautiful garbage (rendered by a sculptor, depicted in a photo gallery): http://tinyurl.com/mho4qn
Runner-up: Q: How many helium balloons would it take to lift a house? A: http://is.gd/Jht5

2. Good (@GOODfeed)
A magazine about all things, well... good—as in admirable and philanthropic. But it's also good as in badass.
Best recent Tweet: You Stay Classy, G. Gordon Liddy http://ow.ly/aqiw
Runner-up: World's Best Trash Cans Come to Philly http://ow.ly/9Kop

3. The Week (@TheWeekMagazine)
With the tagline, "All You Need To Know About Everything That Matters," this is a brand made for the Twitterverse.
Best recent Tweet: In a recent survey, 80 percent of Britons said they "would choose a good night's sleep" over a night of sex http://digg.com/d1sOM3
Runner-up: Google Wave is what email would "look like if it were invented today" http://digg.com/d1sNpF

4. National Geographic (@NatGeoSociety)
The National Geographic Society is much more than a magazine, but then again, aren't we all these days? When they say "Coolest thing you'll see today," they mean it.
Best recent Tweet: Coolest thing you'll see today: monster-sized creatures that are the stuff of legend http://ow.ly/aouS
Runner-up: nostalgic for nudibranchs, neatest little creatures you'll see all day http://ow.ly/9Tkp - my fave: Chromodoris, what's yours?

5. Harper's (@harpers)
At the time of the magazine's founding in 1850, 140 characters couldn't buy you a good leeching. Harper's strength, though, is that it still prints long, thoughtful features and essays. These Twitter links are to shorter, but equally provoking stories.
Best recent Tweet: KEN SILVERSTEIN—Congressman Cantor and Cockfighting http://tinyurl.com/mqfg2r
Runner-up: KEN SILVERSTEIN—Math for Ambassadors: London Sells for $500,000 http://tinyurl.com/lssb8k

6. Utne Reader (@UtneReader)
What I love about magazines in general is what I love about The Utne Reader in particular—to constantly be surprised by the completely unexpected story. The Twitter feed is a stream of those surprises.
Best recent Tweet: A thoroughly modern music box. So very cool. http://bit.ly/TQS6u
Runner-up: In search of the elusive Caucasian spinach http://bit.ly/13KdAF

7. Draft (@draft)
There are more than a few beer magazines out there, and several reflect a passion for beer that I share. But Draft also reflects a passion for magazines that I share. It's a beautifully executed publication that I'm just getting to know.
Best recent Tweet: Thief's Bud Light mask fails http://bit.ly/qKYvT
Runner-up: Raising beer taxes to pay for… hockey? http://bit.ly/h5HdW

8. Under the Radar (@Under_Radar_Mag)
The second best music magazine in the U.S. (OK, I'm a little biased towards the first), Under the Radar covers the hell out of the indie music scene.
Best recent Tweet: Mingus Ah Um [Legacy Edition]: Charles Mingus was one prolific motherfucker in jazz's greatest year. That Februa.. http://tinyurl.com/kobw6n
Runner-up: The Open Door EP: Before they hit the big time and had money coming out of their ears, Death Cab For Cutie toure.. http://tinyurl.com/pddt26

9. Urb (@urbmag)
Forget The Source and XXL. Raymond Roker's beautifully designed publication covers the best hip-hop and electronica.
Best recent Tweet: Smooth Sailin' - Yacht Rock Putting The Hard On In Chardonnay http://tinyurl.com/ly3gs7
Runner-up: Mad multi culti fists in the air right now. Give it up for Black Star.

10. The New Yorkerest (@newyorkerest)
OK, San Francisco-based New Yorkerest isn't actually a magazine, but a blogger who links to "just the one can't-miss piece from each issue of The New Yorker. All because we know you're really busy. And because we're really nice." Brilliant.
Best recent Tweet: The March 30 issue has pieces by both David Sedaris and Woody Allen! I hope this doesn't mess with the space-time continuum.
Runner-up: As far as I can remember, this is the first time a fellow twitterer has won best of issue. Congratulations @sashafrerejones

Let me know who else is worth following in the comments. I'm on Twitter @ joshjackson.

Others Tagged With