The Seven Most Iconic Liberal-Guilt Documentaries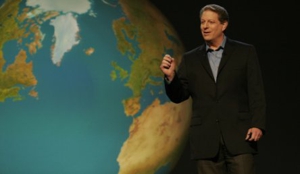 Ever since last year's election cycle finally lunged to an end, so-called "liberal guilt" has retired to a quieter existence. Now less of an anti-Obama anthem and more of an amusing curiosity, the concept of guilt over leftists' long history of complacency with the big, evil, corporate world can return to where it's most comfortable: the documentary film.
Anyone who has ever spent time in a college town with a movie theater knows which ones we're talking about. Spawned in roughly equal parts by Michael Moore's finger-wagging docs, the Bush years and the advent of digital video, a pronounced subspecies of non-fiction film emerged that condemned just about everything it could come up with to condemn. The movies that resulted might be annoying if they weren't so pervasive and persistent. Tongue-in-cheek clips, sweeping arguments, lingering guilt when you get water from a bottle rather than the tap—what's not to love? Kick back and enjoy the best of the everything-is-evil movies that have become one of the biggest forces in documentary filmmaking.
7. Outfoxed: Rupert Murdoch's War on Journalism

 For People Who:
Think Fox News is harmless/more fun to watch than CNN and MSNBC.
The Lesson:
Corporate news is evil! Especially corporate news owned by Rupert Murdoch! Produced before the 2004 presidential election, not to mention before Murdoch got his hands on
The Wall Street Journal
, this low-budget doc is almost quaint in its attempt to demonstrate a pattern of right-wing bias designed—that's right—to overthrow our democracy.
6. Wal-Mart: The High Cost of a Low Price
 

For People Who:
Have been known to patronize an evil retail chain or two when time or cash flow requires.
The Lesson:
"Wal-Mart seems to be going on a rampage through the American economy, and no one's even paying attention," an observer declares early in the movie. We visit the homes of single moms, a Wal-Mart corporate shareholder rally and Chinese sweatshops to learn one very simple message: It's not worth the $2 wine glasses.
5. Shut Up and Sing



For People Who:
Think of the Dixie Chicks' downfall with bemusement or indifference.
The Lesson:
The trio's fall from grace is documented in excruciating detail, a depressing reminder of how much we suck at free speech.
4. Flow: For Love of Water For People Who:
Buy bottled water and the like.
The Lesson:
"It's not a Democratic issue. It's not a Republican issue. It's a people issue." So intones one of the more pragmatic voices in
Flow
, but it's clear what audience was on the receiving end. You know the punchline: Yuppies obsessed with bottled water have helped corporations dig their grubby claws in water supplies internationally, and people will die because of it. Awesome.


3. King Corn

For People Who:
Eat. Or more specifically, eat like most Americans.
The Lesson:
In our obligatory entry on fast food, we learn first-hand what we allow to go into our meals. The movie is actually delightful, but the bottom line is the same: We, as a people, have some disgusting, disgusting habits.

2. Who Killed the Electric Car?

 For People Who:
Get fewer than 40 miles a gallon, have ever wanted a Hummer, or both.
The Lesson:
Pretty much everyone is found guilty of the electric car's untimely demise, and this surprisingly well-made movie goes out of the way to let consumers know that it's on us, too. Bummer.
1. An Inconvenient Truth



For People Who: Come on, you know who you are.
The Lesson: In the granddaddy of these movies, we learn that Al Gore is well versed in PowerPoint, and, oh yeah, we're destroying the planet. No one will deny the good this movie has done, but man did it seem to enjoy rubbing it in.