Five Euro Music Festivals That Make Us Want to Cross the Pond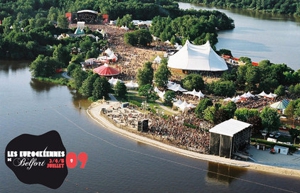 Here in the U.S. of A., there's no shortage of summer-music festivals. In fact, there are so many purveyors of over-priced adult beverages and sweaty good times, it's rather difficult to choose between them. You'd think our musical curiosity would be satisfied, wouldn't you? But alas, as we peruse summer tour schedules that send some of our favorite acts overseas, we can't help but wonder about these festivities on foreign soils. What makes them so awesome? And, did someone enstate a rule that they must be held on some form of medieval ruin? Is a port-a-loo cleaner than a port-a-potty, or does it just sound fancier? We've got burning questions, people.
In all likelihood, we won't be catching a red eye for a weekend stint in Spain anytime soon, but perhaps we can inspire you to take action. If not, go for the next best thing: join us for a little musical armchair travel by reading about five of the best festivals heating up Europe this summer:
EXIT Festival
Where
:
Petrovardin Fortress in Novi Sad, Serbia
Lineup highlights
:
Arctic Monkeys, Buzzcocks, The Prodigy, Grandmaster Flash, Lily Allen, Kraftwerk, Moby, Patti Smith, Max Romeo, Hladno Pivo, Lollobrigida, Das Glow, Etienne de Crecy
The scoop
:
Celebrate the 10th anniversary of a festival that began as a 100-day concert in protest of Slobodon Milosevic's regime and evolved into a large-scale contender on the European festival circuit, not to mention the largest festival in South Eastern Europe. The fest takes place in a Hungarian fortress that dates back to the 13th century, which apparently offers up premium acoustics. We like the sound of that.
N.E.R.D. at EXIT Festival 2008:
Lineup highlights
:
Oasis, Placebo, Coldplay, The Killers, Kings of Leon, Bloc Party, Fleet Foxes, The Streets, Yeah Yeah Yeahs, Elbow, Rodrigo Y Gabriela, Regina Spektor
The scoop
:
It's no secret that we appreciate a good, high-gravity Belgian beer in this office, so the thought of a delicious brew served with good tunes naturally sounds tasty. Hop on over to the home of the hoppy, and enjoy a lineup that reads like a who's who in big-name Brit bands (plus a few bands that
might as well be British
), mixed with some folk, funk and dance acts for good measure. The oldest festival on this list, clocking in at 35 years and running, Rock Werchter is known for throwing a good, old-fashioned rock 'n' roll party, and with more than 60 acts on tap this year, it'll be epic.  
Radiohead at Rock Werchter 2008:
Where
:
Medieval Park in Oslo, Norway
Lineup highlights
:
N.E.R.D., Diplo, The Dodos, Beirut, Band of Horses, Asher Roth, Beach House, Hello Saferide, Wale, Ladyhawke, Jay Reatard, Vampire Weekend, Kare & the Caveman
The scoop
:
Catch an eclectic and extremely alluring batch of musicians at yet another historic locale, this time among the 1,000-year-old ruins of Oslo's first settlement. Maybe that's why they're so keen on environmental preservation at this festival. Instead of allowing trash to pile up on smelly campgounds, the folks at Øya compost all trash to form a garden mould, use drinking vessels to provide heat and energy, and, of course, recycle paper. They're also known for serving eco-friendly, often-organic foods. 
Iron & Wine at Oya Festival 2008:
Les Eurokéenes de Belfort
Where: Malsaucy, France
When: July 3-5
Lineup highlights: Kanye West, The Kills, The Pains of Being Pure at Heart, Mos Def, Crookers, Glasvegas, Peter Bjorn and John, Electrons Libre, Birdy Nam Nam, Passion Pit, The Ting Tings, Charlie Winston
The scoop: The French know how to do a few things right: wine, cheese, fashion and damn-good electronica (see: Punk, Daft). Apparently, they also know a thing or two about festivals. The Eurockéenes site, for one, looks more like an exquisite getaway than a down-and-dirty festival ground. Located on the gorgeous Malsaucy peninsula in eastern France, the Eurockéenes festival, which includes a stage actually on the beach, allows fans to soak up the flashing lights of Kanye against a backdrop of mountains and lakes. C'est magnifique, bien sûr.
Massive Attack at Eurokéennes 2008:

 
Where
:
Eastnor Castle Deer Park in Herefordshire, England
Lineup highlights
:
Spiritualized, Basement Jaxx, British Sea Power, Bristol Hi-Fi, Favela Chic, Wildbirds and Peacedrums, Rodriguez, Lamb, Calexico, Friendly Fires, Lindstrøm
The scoop
:
Glasto, shmasto. We just want to chill. This event might not boast the type of major-names acts headlining other U.K. festivals, but that doesn't seem to be the point. At The Big Chill, art creeps up to par with music for a wildly out-there creative experience where hanging out takes precedence. As part of the fiercely independent and ever-growing Big Chill franchise (which also includes a
bar
,
house
and
label)
, this countryside festival hosts everything from a 
nighttime art trail
to a zombie walk. You read correctly: the 2009 event will debut the
I Spit on Your Rave: The World's Biggest Zombie Walk
, in which festival-goers can dress up as the living dead and become extras in a new Warp Films and Film4 mockumentary. Beat that,
Bonnaroo
.
Leonard Cohen at The Big Chill Festival 2008:
Others Tagged With