Tales of the Coffin Nail: 27 Smoking Songs That'll leave you Breathless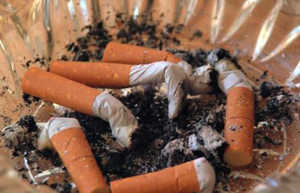 Aside from that one weekend on the eve of 7th grade, when my parents left me with my older sister, I've never been a smoker. When I actually inhaled, it always tore my throat up so bad I couldn't even finish a whole cigarette. Still, that weekend, a random, inconsequential moment occurred that I still—for some strange reason—remember in astonishing detail.
It was the night before the first day of school—late August 1991 in the Atlanta suburbs—and an intense thunderstorm had just rolled through. My sister was already asleep in her basement apartment, so I took my boombox down to the back deck, popped in a faded white cassette of Led Zeppelin's
Houses of the Holy
, and sparked a Kool menthol just as John Bonham's slinky snare fill kicked off "D'yer Maker." I sat there puffing on that cigarette in silence, thinking about the summer that had been, and what the school year ahead might hold. My senses were overloaded—the music, the humidity, the smell of wet cedar, the curling wisps of thick, white smoke. There's nothing about that moment that was significant, but I remember it more vividly than any moment before or after.
Like I said, I've never been a smoker, and I get sick of sucking down secondhand in the rock clubs I spend so much time in. Still, there's something transfixing for me about the smoke itself: elusive, continuously shifting shape, slipping through your fingers if you grasp at it. It begs contemplation, introspection. What cued that infamous flashback in Casablanca? The smoke from Bogey's cigarette.
When it comes to songwriting, lyrically, a cigarette performs much the same function as a rose, albeit in a trashier, more stale-smelling and ash-smeared way. See, the rose is beautiful, but it's got thorns, too—just like the cigarette nestled between your fingers, which might make you feel good right now, but it's really a slow suicide. That kind of yin/yang, pleasure/pain dichotomy wrapped up neatly in one tiny little forbidden, phallic object makes the cigarette a perfect image to slip into a rock 'n' roll song. Which is probably why there are so many great tunes in which smoking plays an integral part.
But before we get into this list, first things first. Smoking is really bad for you, kids. Probably even worse than bacon cheeseburgers and smoking dope and watching reality TV—combined. That's why the Surgeon General puts this on packs of cigarettes:
Like I said, I've never been a smoker, but that doesn't mean I can't enjoy these hand-rolled, all-natural, additive-free ditties: mostly tortured tales of unimaginable heartbreak—or even more dangerous,
true love
—that are probably killing me just as slowly and surely as your "pack-a-night-but-only-when-I'm-drinking- besides-it's-cool-since-I-only-bum- and-everybody-knows-they-only-count-if-you-pay-for-'em" habit.
Alright then. Without further ado, I present "Tales of the Coffin Nail: 27 Smoking Songs That'll Leave You Breathless"…
--
1. "Highways and Cigarettes" - Son Volt
"Still out there with the coffee stains / Puttin' miles on shoes / Can't escape the smell of cigarettes / Still livin' out these American midnight blues"
2. "Smoke Detector" - Rilo Kiley
"My eyes burn, everybody smokes / I smoke too, but not as much as you / I do the smoke detector … I took a man back to my room / I was smoking him in bed / Yeah, I was smoking in bed / This is what he said"
3. "Cigarette" - Jeremy Fisher
"I'll be your cigarette / Light me up and get on with it / I'll be hard to forget / Good or bad, I'm just a habit / Good or bad, I'm just your habit"
4. "Cigarettes and Coffee" - Otis Redding
"All the places that I've been around / And all the good looking girls I've met / They just don't seem to fit in / Knowing this is particularly sad / But it seems so natural, darling / That you and I are here / Just talking over cigarettes and drinking coffee / And whole my heart cries out / Love at last I've found you / And honey won't you let me / Just build my whole life around you"
5. "Can't Hardly Wait" - The Replacements
"Jesus rides beside me / He never buys any smokes / Hurry up, hurry up, ain't you had enough of this stuff / Ashtray floors, dirty clothes, and filthy jokes"
6. "What She Said" - The Smiths
"What she said: I smoke 'cos I'm hoping for an early death / And I need to cling to something"
7. "Smoke Rings" - Sam Cooke
"Where do they go / Smoke rings I blow each night / Oh, where do they go / Those circles of blue and white … To picture a dream above, above / Then why do they fade / My Phantom Parade of love / Puff, puff, puff / You can puff your cares away / Night and day / Blow, blow them into air / Silky little rings … Please take me above with you"
8. "Sunday Morning Coming Down" - Johnny Cash
"I'd smoked my mind the night before / With cigarettes and songs I'd been pickin'"
9. "Three Cigarettes in an Ashtray" - Patsy Cline
"Two cigarettes in an ashtray / My love and I in a small café / Then a stranger came along / And everything went wrong / Now there's three cigarettes in the ashtray / I watched her take him from me / And his love is no longer my own / Now they are gone / And I sit alone / And watch one cigarette burn away"
10. "Cigarettes and Chocolate Milk" - Rufus Wainwright
"Cigarettes and chocolate milk / These are just a couple of my cravings / Everything it seems I like's a little bit stronger / A little bit thicker, a little bit harmful for me … I'm just a little bit heiress, a little bit Irish / A little bit Tower of Pisa / Whenver I see ya / So please be kind if I'm a mess"
11. "A Shot in the Arm" - Wilco
"The ashtray says you were up all night / Then you went to bed with you darkest mind / Your pillow wept, you covered your eyes / And you finally slept while the sun caught fire"
12. "Cigarette in Your Bed" - My Bloody Valentine
"Falling down, I like to watch you crawl around / Arms untied, scratching your eyes out with a smile / Strange stare, strangled by the blade left in your heart / I glide by, slip a cigarette in your bed"
13.
"Nicotine & Gravy" - Beck
"I'll be your chauffeur on a midnight drive / It takes a miracle just to survive / Buried animals call your name / You keep on sleeping / Through the poignant rain / I think we're going crazy / Her left eye is lazy / She looks so Israeli / Nicotine and gravy"
14. "Fishnets & Cigarettes" - New York Dolls
"You're gettin' a little impatient / Smokin' like a mental patient / Happiness / Fishnets and cigarettes / A pagan monkey in a dress / Tell me who can arrest / A mind ensnared by love?"
15. "Cigarettes Coffee and Booze" - The Minus Five
"I'm not frozen back in time / Time falls forward in a line / The spread of ashes, the sting of lime / the floating mold, the stain of wine / Next thing you know, the situation is lose, lose / When all you really need, cigarettes, coffee and booze"
16. "A Day in the Life" - The Beatles
"Woke up, fell out of bed, dragged a comb across my head / Found my way downstairs and drank a cup, and looking up, I noticed I was late / Found my coat and grabbed my hat, made the bus in seconds flat / Found my way upstairs and had a smoke, and somebody spoke and I went into a dream"
17. "Have a Cigar" - Pink Floyd
"Come in here, dear boy, have a cigar, you're gonna go far / you're gonna fly high, you're never gonna die / You're gonna make it if you try, they're gonna love you."
18. "Rock 'N' Roll Suicide" - David Bowie
"Time takes a cigarette, puts it in your mouth / You pull on your finger, then another finger, then your cigarette / The wall-to-wall is calling, it lingers, then you forget / You're a rock 'n' roll suicide"
19. "Night Train" - Guns N' Roses
"I got a Molotov cocktail with a match to go / I smoke my cigarette with style"
20. "Nicotine" - Ani DiFranco
"I hate you sometimes / But I love to be your queen / You are my muse / Got me smoking nicotine"
21. "Dad Blame Anything a Man Can't Quit" - Roger Miller
"I'm a two pack a day man, smoke like a fiend / Like a burned out bearing in a bad machine / I can't breath in the morning 'til l get myself a cigarette lit / I say dad blame anything a man can't quit"
22. "Flowers on the Wall" - The Statler Brothers
"Countin' flowers on the wall / That don't bother me at all / Playin' solitaire 'til dawn with a deck of 51 / Smokin' cigarettes and watchin' Captain Kangaroo / Now don't tell me / I've nothing to do"
23. "Smokin' 100's Alone" - Bottle Rockets
"She's smokin' 100's alone / Thinking about the man that done her wrong / Happy that she kicked him out but sad that he's gone / She's smokin' 100's alone / Another cup of coffee down the hatch / Another cigarette as soon as she finds a match / Feeling more like a loser as each minute drags on / She's smokin' 100's alone"
24. "(I Can't Get No) Satisfaction" - The Rolling Stones
"When I'm watchin' my TV / And the man comes on to tell me / How white my shirts can be / But he can't be a man 'cause he doesn't smoke / The same cigarettes as me"
25. "Talking Cancer Blues" - Dave Van Ronk
"I was sitting in the backyard sucking a Good Humor / Along comes a doc, says my wife has a tumor, and it was malignant / Now the AMA and the medical hires, they don't agree with Ligget & Myers / They say smoking is bad for you, it'll give you cancer, hell of a cough, too … Look what I got free with these cigarette coupons / A chest X-ray"
26. "My Last Cigarette" - k.d. lang
"Sometimes the people you love in the night / The morning will choose to forget / This is my last cigarette"
27. "Cigareets, Whuskey, and Wild Wild Women" - Red Ingle and the Natural Seven


Cigarettes, whiskey and wild wild women
They'll drive you crazy, they'll drive you insane
Cigarettes, whiskey and wild wild women
They'll drive you crazy, they'll drive you insane
Once I was happy and had a good wife
I had enough money to last me for life
Then I met with a gal and we went on a spree
She taught me smokin' and drinkin' whiskey
(CHORUS)
Cigarettes are a blight on the whole human race
A man is a monkey with one in his face
Take warning dear friend, take warning dear brother
A fire's on one end, a fool's on the other
(CHORUS)
And now good people, I'm broken with age
The lines on my face make a well written page
I'm weavin' this story, how sadly but true
On women and whiskey and what they can do
(CHORUS)
Write on the cross at the head of my grave
For women and whiskey here lies a poor slave
Take warnin' poor stranger, take warnin' dear friend
In wide clear letters this tale of my end
(CHORUS)