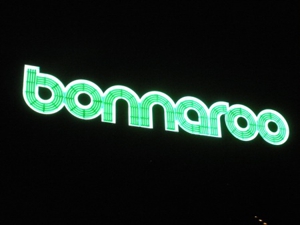 Somehow, 2009 marked my first Bonnaroo. After years of hearing stories of the hot, dust-laden, never-ending days in Manchester--combined with years of attending festivals and being unimpressed by inferior sound, overcrowded grounds and annoying sound bleed--I was skeptical. But I enjoyed every moment of Bonnaroo. Great acts were a given (as they've been at most fests I've attended), but the festival was large enough to constantly hold my interest but, somehow, still manageable. Sound was great, crowds didn't interfere with seeing or hearing bands, bleed was minimal, and fest organization was impressive.

There are many great moments I missed. I'm kicking myself for not staying for David Byrne's full set, where he did several Talking Heads songs, for leaving before Neko Case's duet with Triumph the Insult Comic Dog, and for not staying awake for MGMT. But here are the 12 moments that made Bonnaroo memorable for me:

Al Green hitting the high notes in "Let's Stay Together" and "Lay It Down." The whole set was amazing. This 63-year-old legend still has it. When he drops to his knees on those high notes, he recalls Springsteen. Reverend Al Green is the Boss of soul, and I can't wait to catch him again.
Aziz Ansari's R. Kelly impression. I'd heard the buzz and seen the YouTube clips, so I was excited to see Ansari for the first time (the lackluster Parks and Recreation notwithstanding). He exceeded all my expectations. I was beginning to suspect I was just not a standup comedy guy, but Ansari restored my faith in the form. Among the many highlights was his spot-on impression of R. Kelly speak-singing his concert banter.
The 2nd half of Bruce Springsteen's set. My first Boss concert failed to live up to fans' billing of life-altering ecstasy, but he won me over this time. My resistance melted with his "Let's build a house" sermonette on the power of music (borrowing from the Prayer of St. Francis--"Let's take the hate out there and build a house of love in here. Let's take doubt out there and build us a house of faith. Let's take the despair out there and build us a house of hope."). By the time he rolled into songs like "Born to Run" and "Dancing in the Dark," I was a believer.
Merle Haggard covering Cash. When the impeccable Haggard donned the stage with the impeccably dressed band (over half of which had to be in their 70s), I knew I was in for a treat. In addition to Haggard's classics (including one of my wedding songs, "That's the Way Love Goes"), he covered Johnny Cash's "Folsom Prison Blues" and "Jackson." The entire set was amazing, and Haggard had the crowd eating out of his hands.
Jeff Tweedy recruiting the cameraman to strum his guitar while Tweedy made the chords (and while the camerman filmed the whole thing with one hand) during "Impossible Germany." The entire set was a reminder of why Wilco is one of the best live bands in America.
The Bon Iver sing-along. The few songs I caught of Bon Iver, after rushing over from the Daily Show Stars comedy set, made me seriously regret missing their Atlanta show a couple weeks ago. Justin and his band know how to put on a show, and he infuses his live set with suprising intensity. He instructed the audience in singing part of "Wolves" and the effect was chill inducing.
The closing song from Elvis Perkins in Dearland. Perkins capped off a great set by inviting the entire Bon Iver band on stage for the final number.
Cage the Elephant showmanship. I only caught the last song from Cage the Elephant but it was a doozie. The lead singer invited 25 fans to join them onstage, climed the rafters and then crowd-surfed half-way back the sizable tent. Fun, fun, fun.
John Oliver's set. The Brit showed why he's my favorite Daily Show correspondent.
Of Montreal's costumes. The Athens band brought the fun. See Josh's description of the set.
Chairlift on ferris wheel. We recorded Chairlift performing on the ferris wheel for the Paste Station. We'll have to see if it turns out as well as last year's ferris wheel performance from Jose Gonzalez, but a good time was had by all.
Silent disco. My own little oasis of humor, the silent disco features a tent full of people dancing to a master DJ—while wearing wireless headphones. Trust me, if you're outside the tent without a headphone, you can't help but smile watching people jump around in near silence, mouthing (sometimes singing) along to "Dear Prudence." It was almost enough to make me want to disco.

Others Tagged With