10 Charities to Follow on Twitter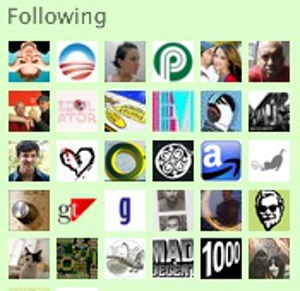 One of the worst effects of our economic downturn is the dip in funding for a number of worthy non-profits. From advocacy groups to homeless shelters, these organizations need every advantage they can find, and Twitter offers an inexpensive way to communicate. If you're in a position to help out—either by funding or by spreading the word—here are 10 charities on Twitter that I highly recommend.
"10 Charities to Follow on Twitter" is Part Eight of a series:
I. 10 Musicians to Follow on Twitter
II. 10 Comedians to Follow on Twitter
III. 5 Star Trek Personalities to Follow on Twitter
IV. 10 Music Bloggers to Follow on Twitter
V. 10 Magazines to Follow on Twitter
VI. 10 Filmmakers to Follow on Twitter
VII. 10 Writers to Follow on Twitter
VIII. 10 Charities to Follow on Twitter

1. charity:water - charitywater
What they do: charity:water is helping provide clean drinking water for some of the 1 billion people in developing nations who don't have access to it. They're able to ensure that 100% of public donations goes directly into water projects, meaning that the money you give helps save lives. In February, Twitter's Twestival helped raise more than $250,000 for the organization.
Best recent tweet: Photo of the Day - http://twitpic.com/8ytap - wow, @estherhavens
Also recommend: bloodwater (working against the HIV/AIDS & water crises in Africa)

2. Not For Sale Campaign - Not_For_Sale
What they do: Led by one of my favorite people on earth, David Batstone, the Not For Sale Campaign is fighting back against the horrific evil of modern-day slavery in a number of ways, including awareness, restoration homes and coordination with law enforcement. The group uses Twitter to share articles and information about human trafficking all over the world.
Best recent tweet: Largest Human Trafficking ring busted! http://bit.ly/kwiGr
Also reccomend: Justin Dillion - justindillon (filmmaker behind Call+Response)

3. International Justice Mission - IJMcampaigns
What they do: I first read IJM founder Gary Haugen's book Good News About Injustice about a decade ago, and I've wanted to be more active in the fight against slavery ever since. Officially: "IJM Justice Campaigns mobilize support of U.S. gov't policies that help build sustainable justice systems abroad that respond to violent crimes against the poor." Practically, that means busting up brothels that enslave sex workers. These guys are my heroes.
Best recent tweet: Have you met your Member of Congress? Sign up to meet your Rep and urge them to eradicate child trafficking: http://tiny.cc/v245W

4. Innocence Atlanta - INnocenceATL
What they do: Full disclosure: I'm on the board of Innocence Atlanta's parent organization Meet Justice. But under the leadership of Daniel Homrich, IA has been helping unify the fight against child sexual exploitation in my hometown—one of the 10 worst U.S. cities for human trafficking. This isn't just a problem for Cambodia and Bangladesh. Slavery is everywhere.
Best recent tweet: Join Innocence Atlanta on 7/17 as they present an "Art Experience to Combat Child Sex Trafficking" at Tongue & Groove: http://pingg.com/08E0

5. Sweet Relief - SweetRelief
What they do: Sweet Relief's most public efforts were a pair of compilation albums supporting Victoria Williams and Vic Chestnutt when both singer/songwriters faced mounting medical bills. But the organization hasn't stopped helping out musicians in need over the last 15 years.
Best recent tweet: Over 40 musicians reached out to us for support in the past week. We need your help so that we can help them: www.sweetrelief.org

6. Invisible Children - invisible
What they do: As illustrated in the incredible documentary of the same name, Invisible Children is the project of three young filmmakers who are doing all they can to help rescue the children in Northern Uganda who've been kidnapped and forced to fight as soldiers in the Lord's Resistance Army.
Best recent tweet: TRI is a way for individuals who believe in standing together for invisible children, stand with us. www.invisiblechildren.com/tri

7. One Campaign - OneCampaign
What they do: Bono cofounded this advocacy arm which has become a 2,000,000-person-strong lobbying presence to the world's richest governments on behalf its poorest people-addressing HIV/AIDS, clean water, preventable disease, debt relief and agriculture.
Best recent tweet: What we're asking the G8 for this year http://tinyurl.com/m29fmo

8. Gift Card Giver - giftcardgiver
What they do: Andre and Jeff Shinabarger have found a creative way for you to use those left over gift cards to Target and Home Depot that have been sitting in your junk drawer gathering dust—GCG pools the left-over credit and gives it to people and organizations in need.
Best recent tweet: Check it out: GiftCardGiver was just interviewed for GoodWillHinton's blog. http://tiny.cc/6Jd6t

9. To Write Love on Her Arms - TWLOHA
What they do: Jamie Tworkowski has been traveling the country nearly non-stop, offering whatever hope he can give to people struggling with depression, addiction, self-injury and suicide.
Best recent tweet: New Interview with TWLOHA founder @JamieTworkowski and myYearbook.com. Check it out here: http://tiny.uuuq.com/?cv6wa7

10. TOMS Shoes - TOMSshoes
What they do: Our lone for-profit company on the list, TOMS shoes was founded by Blake Mycoskie when he saw the need for impoverished kids in Peru to have shoes. He started a shoe company that gives away a pair of shoes for every pair it sells.
Best recent tweet: "We were at our last school... out the window, students were saying 'I love you' in sign language." - Shoe Drop volunteer, Argentina

I know this just scratches the surface of great charities on Twitter. Let me know who else is worth following in the comments. I'm on Twitter @ joshjackson.
Others Tagged With