Ten Funny Fakes to Follow on Twitter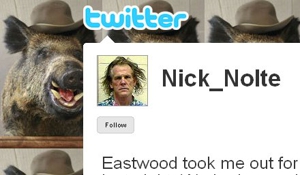 When Phil Spector was under trial and subsequently imprisoned for murder, some media pointed excitedly to his supposed Twitter account to get some prison updates. Apparently, Spector was busy befriending a cockroach he named Wilson, as well as ranting that the authorities took his wig, all tweeted on top of a custom background of prison cell photos. The account was later removed, but it exemplifies the potential hilarity of parody Twitter accounts Whether they actually try to dupe their audience or not, these faux celebrities play up the best and worst of their doppelgangers. Although some of the best have long since been removed (farewell, fake Michael Jackson), here are the best of the ones remaining.
Glenn Danzig - DANZIG
His tweets are few and far between, but they are such humorously dark, despairing gems that he's drummed up more than a thousand followers. His short, simple tweets stir up poetic images of a tall, dark Danzig seated stoically behind a monitor.
Best recent tweet:
heading to the nail salon to get my pinky sharpened, brb
Runner-up:
lots of followers.....Would you follow me into the depths of hell if I called upon you?
Octomom, AKA: Nadya Suleman - OctoMom
OK, so she's undeservingly famous for giving birth to eight kids at once while unemployed, single and on public assistance. All the better reason to enjoy her over-the-top fake Twitter, which is updated frequently in spite of all those children.
Best recent tweet:
Congratulations to Roger Federer for having as many Grand Slam championships as I have kids! #frenchopen
Runner-up:
I'm glad to hear Wal-Mart is hiring 22,000 people. Their Kids & Baby department is so understaffed!
Definitely not the real American Apparel founder, and he definitely doesn't post enough, but the sparse tweets coincide in a timely manner with with real AA problems.
Best recent tweet:
W/tanked economy and now that little lawsuit, we've had to make some cuts...literally: check out our ass-less pantyhose!
http://bit.ly/QehNj
Runner-up:
Yeah, sure... "glorified, not objectified". Now, show some more leg like you did when I interviewed you.
http://bit.ly/Khlda
With more than 7,000 followers, fake Bay brings the big BOOM! to Twitter.
Best recent tweet:
Stocking up for tonight's BBQ. Having trouble finding napalm at Costco. This place is worthless.
Runner-up:
It's casual demolition Friday. Just blowing up beige Camrys while clad in khaki pants and a Tommy Bahama shirt. You know, no big deal.
The fake legendary rocker is clearly in tune with the real guy's brooding emotions.
Best recent tweet:
Nightmare about Susie trimming my moustache. Now: in the kitchen, trembling and making clafouti.
Runner-up:
Stressed. Curling up with a mug of hot cocoa and the Old Testament.
He hasn't updated the world on his silverscreened life since March, and we can only imagine that fake Bale is far, far too busy to really care.
Best recent tweet:
no socializing tonight. I'm trying to get inside my own head. I hate the new film. I need to work on something on my own. I'm not just meat.
Runner-up:
for those of you clamoring for updates, here i am. it's hard being everything to everyone when you cant be there for yourself. just sayin
Famed mugshot in clear view, the fake Nolte apparently only tweets in a non-sober state.
Best recent tweet:
Gonna have me a couple beers and then scrape my butt around on the carpet like a dog.
Runner-up:
Sometimes I go down to the Home Depot and pick up day laborers in my truck just to have people to drink with.
His Twitter bio reads, "covers all angles, except the ones behind me." The always-updating Fake Coop is cutely full of antics, and makes many nonchalant references to his CNN cohorts.
Best recent tweet:
Forgot to put on underwear. Again.
Runner-up:
Hid a strobe light in Blitzer's office. I turn it on for a few seconds every couple of hours, and Blitzer thinks he's having a stroke.
On with more of the CNN crew. This untimely faker quit keeping up with Nancy Grace in September of 2008, but chortle at these borderline realistic tweets anyway.
Best recent tweet:
A reporter asked me today what I think about the $700 billion bailout package. HOW DOES THAT HELP US FIND CAYLEE?!
Runner-up:
Tripped over the cat last night so I put it to sleep. Sorry, but in the Grace household I am judge, jury, executioner, and TV show host.
Blatantly not Bill Clinton, but 10,000+ followers don't seem to mind at all.
Best recent tweet:
Happy Mother's Day to all the MILF's!
Others Tagged With