Six TEDTalks to Make You Reassess What You are Doing With Your Life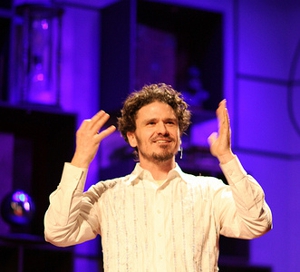 This week, Oxford, UK will host the TEDGlobal Conference. The 1,000 conference attendees hail from all over the world and will listen together as over 60 speakers share the best of what's new in the arts, medicine, anthropology, philanthropy and dozens of other fields. TED (Technology Entertainment Design) has been celebrated over its 25 years for hosting speakers whose work and worldviews are radically inspiring, and this conference, themed "The Substance Of Things Not Seen," is likely to follow suit.


As pangs of longing for a coveted conference invitation begin to set in, we're especially thankful for

TEDTalks

, the video archive that makes these presentations available to the world. After much sifting, we've chosen a few favorites, each of which will shake you by the shoulders and cause you to question whether your current 9-5 and prime-time TV itinerary are really the best use of your time. As I watch them, the words of the poet

Mary Oliver

run persistently through my mind: "Tell me, what is it you plan to do with your one wild and precious life?"

1. "Ted Jensen Creates New Creatures"

Dutch artist and engineer Theo Jansen presents his various beach-dwelling creatures, which flit about on the sand with the grace of a praying mantis or the majesty of an elephant, all to a delightfully jazzy soundtrack.

2. "Jonathan Harris Collects Stories"

Artist and computer scientist

Jonathan Harris

discusses his fascination with collected stories, which he's captured in artful online computer

programs

and dazzling photo essays of an Alaskan whale hunt and a tour through the countryside of Butan. Harris approaches each of these projects with a thrilling eagerness to connect with his subjects and to use these strangers' stories to better understand his own humanness.

3. "Benjamin Zander on Music and Passion"

Benjamin Zander is the conductor of the Boston Philharmonic. A classical music evangelist, the dynamic musician converts an entire TED audience to lovers of the genre in just 20 minutes.

4. "

Dave Eggers

' Wish: Once Upon A School"

A celebrated

author

and

screenwriter

as well as the founder of McSweeney's Publishing House, Eggers also boasts an energized and infectious commitment to youth. His own tutoring center, located in the McSweeney's headquarters behind a pirate supply shop has engendered a partnership between students and professional writers in San Fransisco and has sparked a movement in a handful of cities around the country. In this talk, Eggers encourages listeners to engage with their local public schools, a possibility made more feasible when, with the help of the

TED Prize

, Eggers launched the non-profit

Once Upon A School

last year.




5. "J.J. Abrams' Mystery Box"

J.J. Abrams, creator of

Alias

and

Paste

favorite

Lost,

rejoices that new technology makes nearly anything possible in his creative work. In this talk, Abrams discusses a most valued artistic tool,

mystery

, and points to some of his favorite moments in film which are successful beacuse they forge beyond what we expect and into territory far more resonant.

6. "Aimee Mullins And Her 12 Pairs Of Legs"

Mullins was born without fibulae in either leg and was a double amputee by age one. Now in her thirties, the stunning and composed woman has set off into a flourishing career in acting, modeling and activism. Here, with great joy, Mullins speaks on how she's broken through the traditional confines of disability, combining prosthetic technology and aesthetics to make artistic statements with her legs. This speech is a follow-up to her

1998 TED debut

, when, as a senior at Georgetown University, she had already broken records in the NCAA and the Paralympics track and field competitions with a pair of carbon-graphite sprinting legs.
Others Tagged With